A Mastermind Group Can Help Entrepreneurs Achieve Their Goals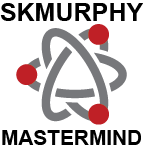 Comparing notes and making commitments to a group of peers can enable you to see things you might otherwise overlook and to persevere on tasks where you may have previously faltered. Active participation in a mastermind group one of the best ways to reach your goals.
SKMurphy offers small mastermind (accountability) groups for entrepreneurs.  We currently have groups with the following focus that meet face to face in Silicon Valley twice a month:
Healthcare
Hardware
Web
Women Entrepreneurs
Consultants
Let's us know if you are looking for a group to keep you focused and on track.  More information
"Isn't it funny how day by day nothing changes, but when you look back everything is different."
C.S. Lewis
Trackback from your site.