Henna Inam Releases New Book "Wired for Authenticity"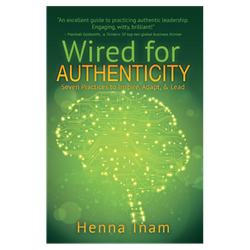 Henna Inam, CEO of  Transformational Leadership Inc. has released a new book "Wired for Authenticity", leadership book addressing the challenges by showing up authentically, expressing yourself fully for the benefit of others.
"I hired Theresa to create a survey tool for me for my book Wired for Authenticity. What I liked best about Theresa is how she was as passionate about the project as I was. She took full ownership, always went the extra mile to make sure that the details were taken care of. The quality and timeliness of her delivery was outstanding. I would highly recommend Theresa."  Henna Inam, CEO
Trackback from your site.