"What Have You Learned In 2017 That You Will Apply in 2018?" is our topic for the
Fri-Dec-29-2017 Bootstrapper Breakfast® in Mountain View.
What Have You Learned In 2017 That You Will Apply in 2018?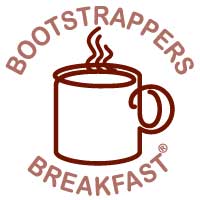 In addition to our regular roundtable we will have a "lightning round" question where folks can share key lessons learned in 2017 they plan to apply in 2018. The other attendees will be entrepreneurs or planning to launch a startup. It will be a chance to compare notes on operational, development, and business issues with peers.
Come join entrepreneurs who eat problems for breakfast. At a Bootstrappers Breakfast® we have serious conversations about growing a business based on internal cash flow and organic profit: this is for founders who are actively bootstrapping a startup.
For First Timers: The Format of a Bootstrapper Breakfast

If you have not been to Bootstrapper Breakfast at Red Rock Coffee before here is a heads-up on the format. Order drinks and food downstairs at the counter and join is upstairs in the Nook area (to the left at the top of the stairs). Everyone has a chance to introduce themselves and talk about what they are working on. In addition of you are facing a challenge you can put it on the table for perspectives and suggestions from the group. Bring your lessons learned from 2017 and we will cover them in the last 20 minutes of the meeting.  You are welcome to stay after the end of the formal discussion and network.
When: Fri-Dec-29, 9am to 10:30am (please arrive a little early so you have time to order downstairs).
Where: Red Rock Coffee, 201 Castro Street, Mountain View, CA
Cost: $5 in advance, $10 at door (food and drink purchased separately directly from Red Rock)
Related Blog Posts