Inspired by Dharmesh Shah I have also started to post these quotes for founders irregularly to my Twitter account. But to save you from having to add one more time sucking application that would take you away from your E-mail I will also be posting them in batches (at the end of the month after this post) on the blog as well. Enter your E-mail if you would like new blog posts to your inbox.
Quotes for Founders
+ + +
"Pressure is on us by the nature of the job. Performance releases pressure."
J. T. Fisher
+ + +
"Life must be lived forward but can only be understood backward."
Soren Kierkegaard
+ + +
"The superior man is distressed by the limitations of his ability, not when men do not recognize the ability he has."
Confucius
+ + +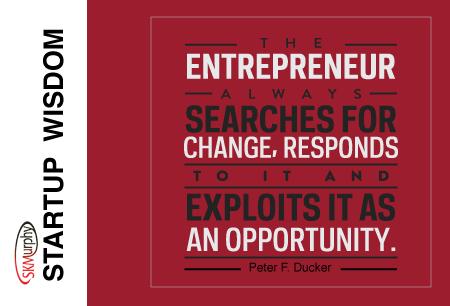 "The entrepreneur always searches for change, responds to it, and exploits it as an opportunity."
Peter Drucker in "Innovation and Entrepreneurship" (1985)
It's been almost three decades since Peter Drucker first wrote "Innovation and Entrepreneurship" and it contains more relevant insight about entrepreneurship than most books published in the last decade. That's why I included in my 2006 talk on "12 books for the busy CEO." If you have not read it you owe it to yourself.
+ + +