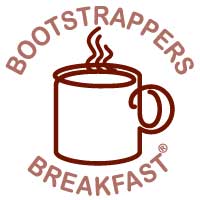 We have added two Holiday Bootstrapper Breakfasts in the week between Christmas and New Years. This year Christmas and New Years fell on the fourth Friday and first Friday of the month which collided with two regularly scheduled breakfasts (which have been canceled).
Which means that we will have a total of four breakfasts in the last three weeks of December:
Tue-Dec-15 7:30am in Sunnyvale at Coco's
Fri-Dec-18 9am in SF at Boudin Bakery
Mon-Dec-28 9am in Sunnyvale at Coco's
Wed Dec-30 9am in Mtn View at Red Rock
And as we reminded you eight weeks ago in "Eleven Weeks–or Less–Left in 2009" here are some logistics issues you should take care of now instead of playing catch up in early 2010:
If this is your first year in business get your accounting system (in most cases in the US this will be QuickBooks) in order now, schedule a meeting with your accountant (or interview candidates and select one) before December 11. If you are based in Silicon Valley we are huge fans of Ogden Lilly.
If you've been working on a startup but haven't incorporated yet, you may want to get all of your paperwork in order but postpone filing until the first week in January, in some states this will save you paying 2009 annual fees for a few weeks of operation in December and then 2010 annual fees. We like to see teams incorporate sooner rather than later if only because it gives you a vehicle to do business with that's better than a collection of sole proprietorships.
Take some time to do both a recap of 2009 and a look forward for 2010, assessing what are appropriate goals in light of continued economic difficulties in most industries. The two Holiday Bootstrapper Breakfasts would be a good opportunity for this.