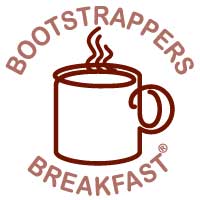 We have been facilitating Bootstrapper Breakfasts® since 2006 in Silicon Valley.  Our promise is serious conversations about growing a business based on internal cash flow and organic profit. This is not for entrepreneurs who want to meet VCs–there are plenty of meetings in Silicon Valley that already enable those conversations–this is for founders who are actively bootstrapping a technology startup.
We define bootstrapping as growing your business based on organic cash flow, not seeking outside funding until you have an opportunity that both requires and merits outside investment.
Here is a list of the next set of breakfasts scheduled in Silicon Valley
Cost is $5 in advance / $10 at the door plus the cost of your own breakfast (separate checks). Check us out over the holidays if you want an early morning conversation with other technology entrepreneurs.