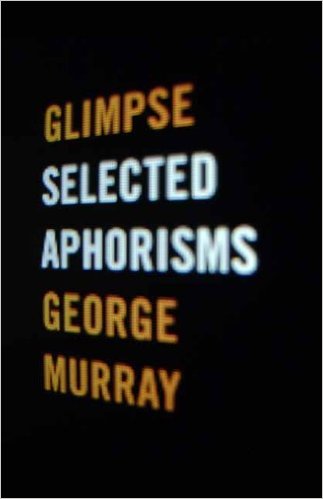 George Murray offers a wealth of aphorisms in "Glimpse." 409 to be exact. You will be seeing a number of them sprinkled throughout my blog posts and "Quotes for Entrepreneurs" roundups for the next few months.
It's a fantastic collection, and definitely worth reading if you enjoy aphorisms. James Geary reviewed Glimpse when it came out in 2011 and observed:
"The deep strangeness of the images and juxtapositions takes a while to sink in, mostly because of Murray's deadpan delivery. Reading his aphorisms is like talking on a phone with a slight delay; you understand what's been said a beat or so after it has been spoken. And that split-second delay, filled with thoughts and speculation, is where the wonder lies, of aphorisms in general and these aphorisms in particular. The charm of Glimpse is that so many of the aphorisms in it make you do a double take."
James Geary in Aphorisms by George Murray
Since it's Sunday I selected these 13 as the more spiritual ones. Those that are more directly related to entrepreneurship will show up on the blog in the coming months.