Ogden Lilly passed away suddenly on Sun-May-14-2017. He worked as an accountant for 47 years at a firm that ultimately added his name to the masthead. I have relied on his advice and counsel for more than two decades and feel his loss keenly on a personal and a professional level.
Ogden Lilly 1948-2017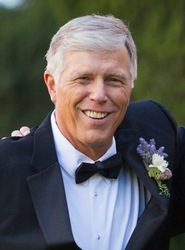 I got to know Ogden in 1992 when he was recommended to me by a friend when I realized I wanted another pair of eyes on my tax returns. When I left Cisco in 1994 I relied on him for my business taxes as well. We have recommended him to dozens of bootstrappers with both basic needs and in a few cases some challenging situations and never heard anything but praise for his advice and the quality of his work.
"The work of an unknown good man is like a vein of water flowing hidden in the underground, secretly making the ground greener."
Thomas Carlyle
Like most people I know who run their own firms he was extremely hard working; he would often call back with an answer or a question at 7 or 8pm at night, knowing that I would also be happy to hear from him. In some ways we had little in common, I resisted his efforts to make small talk about sports and he was immune to any insights I cared to offer about technology, but I had tremendous respect for his ability to cut to the heart of an issue and in a very short amount of time come back with an approach or suggestion that I could rely on to move forward.
He had the ability to combine an ability to "run the numbers" with a personal warmth and a sense of caring that made his advice extremely useful. I never new him to panic or lose his cool; he had an athletes confidence and grace even though he was wielding a pencil and not a baseball bat. He was gracious enough to attend several Bootstrapper Breakfasts and provide insights on tax and cash flow planning.
"The mature man lives quietly, does good privately, assumes personal responsibility for his actions, treats others with friendliness and courtesy, finds mischief boring and keeps out of it. Without this hidden conspiracy of good will,  society would not endure an hour."
Kenneth Rexroth
At one point I went to him to work out the best way to provide additional funds to Full Circle Connections to keep us going. I explained the situation and he suggested it would be best to loan in the funds so that if the business turned around I could be repaid out of cash flow and we would not have to adjust the cap table. But then he paused and said, "I have to tell you, I would be remiss if I didn't. From everything you have described, this business is not going to succeed in it's current configuration and you should write it off now. If you loan this money in you will never see it again and you should count it as lost and only loan in enough that you can absolutely afford to lose." I told him I understood his perspective but I needed to try for another six months. In the end he was correct and his advice made it easier for to see clearly the need to shut down the business.
Our last conversation was about two months ago, he called me back one night and we spoke for about 20 minutes about our children graduating and entering the workforce. We were both concerned that the Silicon Valley housing market was going to price them out of living here.
The recent death of another friend and now Ogden's has made me realize that if I want a well attended funeral I should die young, if I am committed to longevity–to the extent any of us get a choice–then I must accept I will be attending a lot of my friends' funerals. It does not make it any easier.
"The growing good of the world is partly dependent on unhistoric acts; and that things are not so ill with you and me as they might have been, is half owing to the number who lived faithfully a hidden life, and rest in unvisited tombs."
George Eliot
Mercury News Obituary
Howard Ogden Lilly Jr.
August 1, 1948 – May 14, 2017
Resident of San Jose

Howard Ogden Lilly entered into rest on May 14, 2017. Resident of San Jose, born Aug. 1, 1948 in Davis, CA. He graduated from Santa Clara University in 1970 and was a CPA for 47 yrs. at Boitano, Sargent, & Lilly. Ogden enjoyed watching the San Francisco Giants and especially enjoyed his sons' athletic events. Ogden was the unofficial photographer of his extended family, the Ravizza's.

Ogden is survived by his wife, Rose, sons Oggie (Marianne and grandson Bennett) and Aaron (Nicole).

Friends are invited to attend a Funeral Mass at St. Martins of Tours, 200 O'Connor Drive, San Jose, CA 95128 on Wednesday May 24 at 11:00 am.

In lieu of flowers, send donations to Hoover Middle School PTSA/Athletic Program, 1635 Park Ave, San Jose, CA 95126; or Lincoln High School Foundation, 555 Dana Avenue, San Jose, CA 95126.
Announcement by Boitano, Sargent, and Lilly
Ogden Lilly has been battling a very controllable form of leukemia since Easter Sunday. He had been doing well and was thinking he would be released from the hospital this past weekend

Unfortunately, Friday night he suffered a massive stroke while at Stanford Hospital. Yesterday afternoon at about 4:00 P.M., he passed away.

Please keep Ogden, his wife Rose and married sons, Oggie and Aaron in your thoughts and prayers. He will be greatly missed by all of us.

Excerpts from a "Dear Clients" letter dated May 15, 2017 signed by Frank L. Boitano
Related Blog Posts