A cofounder commitment is for long term. A fully informed decision takes time: prove your value and avoid painful mistakes.
A Cofounder Commitment is Long Term: an Informed Decision Takes Time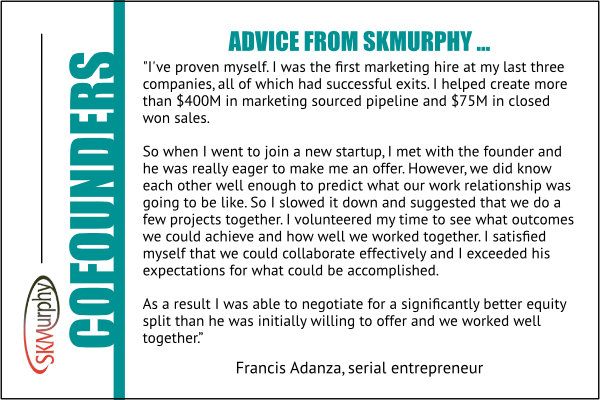 "Sean Murphy gave me some great advice for evaluating opportunities and negotiating for the value you bring. There are no overnight successes: when you actually get the real story for any startup or any breakthrough product it took years. This means that any significant opportunity requires a long term commitment. A long term commitment requires a slow and careful evaluation before making a fully informed decision. I have learned that when I take this approach, I am able to negotiate for more value than trying to reach an agreement quickly.

He taught me that becoming a co-founder is like getting married. You need to figure out what the other founders are really like to see if your values and working style are compatible. You also need to see if you can handle the startup roller coaster together. He recommended that I slow play it versus jumping all in.

I use his advice frequently. Here is one example to demonstrate the value of this approach.

I've proven myself. I was the first marketing hire at my last three companies, all of which had successful exits. I helped create more than $400M in marketing sourced pipeline and $75M in ARR. So when I went to join a new startup, I met with the founder and he was really eager to make me an offer. However, we did know each other well enough to predict what our work relationship was going to be like. So I slowed it down and suggested that we do a few projects together. I volunteered my time to see what outcomes we could achieve and how well we worked together. I satisfied myself that we could collaborate effectively and I exceeded his expectations for what could be accomplished. As a result I was able to negotiate for a significantly better equity split than he was initially willing to offer and we worked well together."

Francis Adanza, serial entrepreneur
SKMurphy Take:
There are two key unknowns in a potential cofounder role: what the other founder is really like to work with and how much real synergy will there be in your joint collaboration. Predicting what such a combined effort will yield is very hard if you don't have any real data from past projects where you successfully collaborated. The best way to determine how well you can work together is to go through a sequence of projects that escalate in scope to allow you to pressure test your relationship, assess complementary skills, and explore how to execute well together. This allows both parties to make a more realistic assessment of how much each is likely to bring to the business.
Proceed slowly before making a long term cofounder commitment.
Working together is different from an interview.
You need the "pressure test" of real projects with deadlines to figure out what people are really like.
Long term relationships need progressive mutual disclosure and a sequence of projects to get acquainted.
Negotiate for your worth and the value that you have demonstrated that you can bring.
Related Blog Posts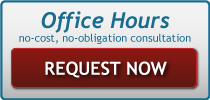 If you are thinking about teaming up with a cofounder to bootstrap a B2B startup you are welcome to schedule an office hours session to walk around the situation. You can invite your potential cofounder to take part–or not. It's an opportunity to have a focused conversation on the challenges you are wrestling with at no charge.