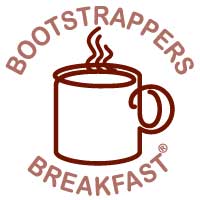 I first met Sam Schillace at an Under The Radar event on "The Business of Web Apps: Where the Web Goes to Work" in March of this year. Sam co-founded Upstartle, the firm that developed Writely, with Steve Newman and Claudia Carpenter. I had been a user of Writely before it morphed into Google Docs and was delighted to meet one of the folks who had made it possible.
We put up a short interview with him on the Bootstrapper Breakfast blog yesterday. For more information on Writely, the Writely–The Back Story by Peter Rip makes for interesting reading, key extract:
I've known Sam and Steve for about nine years.  They have been in the application software business for nearly 20 years.  Two important themes arise from this.  First, they aren't generic applications software guys.  Every major product they have shipped has been about "documents" but on successive platforms.

They were the authors of FullPaint and FullWrite  — the largest selling third party word processing and painting apps on the original Macs.
They developed the first cross-platform (Mac, Windows) WYSWYG HTML editor which came to market as Claris Home Page.
They developed the re-design and built the underlying platform to Macromedia's re-write of DreamWeaver.
Now they have built Writely.
He is coming to tomorrow's Bootstrappers Breakfast, please RSVP as we have limited space. He has prepared a couple of remarks and then, like all Bootstrapper Breakfasts, it will be a serious discussion on growing a business based on internal cash flow. I hope to see you tomorrow at 7:30AM in the back room at Hobee's in Palo Alto (4224 El Camino Real Palo Alto, CA 94306).