Five tips for end of year planning for startup entrepreneurs. As the year draws to a close dates in calendar are closer than they appear.
Last Full Work Week of 2008:
Tips for End of Year Planning
One of my old bosses would append this footer to all of the project schedules he published:
Warning: Dates in Calendar Are Closer Than They Appear!
I mentioned in "6 Work Weeks (or Less) Until 2009" that the weeks of December 15 and 29 were half weeks:
Dec-15: unless you are chasing end of year budget can be very slow [Half-Week]
Dec-22: normally a good time to reconnect with friends and family [Full Week for hermits]
Dec-29: last chance to file paperwork with a 2008 deadline [Half-Week; Full Week actually but halfway through it you are in 2009]
Five Tips of of Year Planning: Take Care of These Now
Here are some logistics issues you should take care of now instead of early 2009:
If this is your first year in business: get your accounting system–normally QuickBooks for startups–in order now! Schedule a meeting with your accountant or interview candidates and select one this week. If you are based in Silicon Valley we are huge fans of Ogden Lilly.
If you haven't reviewed 2008 take some time this week to write down what you accomplished and what you have learned. That allows things to percolate so that the week of Dec-29 be used for planning 2009.
If you've been working on a startup idea but haven't incorporated yet get your paperwork in order but postpone filing until the first week in January: in some states this will save you paying 2008 annual fees for two weeks of operation in December and then 2009 annual fees. We like to see teams incorporate sooner rather than later if only because it gives you a vehicle to do business with that's better than a collection of sole proprietors.
If you are stuck trying to pick a name we suggest you contact Athol Foden at Brighter Naming, his team has a clear process that's startup friendly outlined on his website. You can pick which steps you would like assistance on and which you want to do on your own.
If you need a good attorney for your startup contact Rob Dang at FortisGC.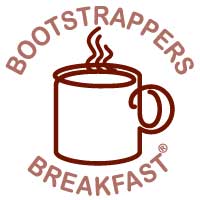 We have one last Bootstrappers Breakfasts® in December, it's tomorrow at Coco's in Sunnyvale. RSVP now we would be delighted to see you. If you've been meaning to come all year then tomorrow is the last day to do it. If 7:30 AM is just too damn early I have some good news: we are adding a fourth location that will start at 9:30AM. On January 23, 2009 we start meeting at Red Rock Coffee in Mountain View on the fourth Friday of the month.