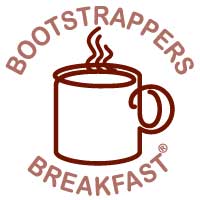 I ran into an entrepreneur last night after the IEEE-CNSV "Service Economy" event who had been to a Bootstrapper Breakfast but had had to shut down his business. He asked me "I don't have much to say right now but I get a lot out of the breakfasts, can I still come?"I said "Certainly. Not everyone who comes brings an issue every time. But I am certain that you will be able to offer other entrepreneurs insights on their issues.  And you will be doing a new startup at some point, you may find a partner or a team you can join that will benefit from your experience and expertise."
OK, it might have been a longer conversation and I may not have been as cogent, but the thought was there. We have one seat left for our Bootstrapper Breakfast™ 7:30 at Hobee's in Palo Alto on Friday: please register if you plan to attend, we will have to turn you away if we are full and you have not registered.
We are running four breakfasts a month now, if this Friday isn't convenient or gets full, consider another:
Update: we are now full for Friday's breakfast in Palo Alto, please join us at another breakfast in May.