Bootstrappers Breakfast Is Now a Registered Trademark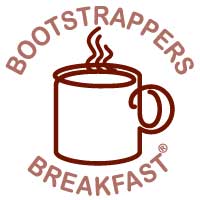 "Bootstrappers Breakfast" was registered June 23, 2009 as a trademark of SKMurphy, Inc. "For education services, namely providing live and on-line seminars, workshops, and mentoring sessions in the field of entrepreneurship."
No claim is made to the exclusive right to use "breakfast" apart from "Bootstrappers Breakfast."
Details as they unfold: we will do six breakfasts a month starting in July.
Update Jul-1-09: we wanted to thank Athol Foden of Brighter Naming for his advice on trademark strategy and assistance in navigating the registration process.  We were pleased to retain him and would encourage other startups to do likewise. We filed our application November 7, 2008.
Trackback from your site.