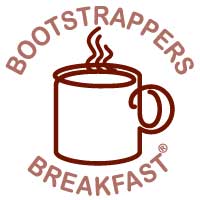 Given Milpitas' strong commitment to entrepreneurship and new business development, the Bootstrappers Breakfast promise of serious early morning discussions among bootstrappers will have many local entrepreneurs feeling right at home. The focus of the monthly meeting is on technology businesses whose next stage of growth is based on internal cash flow and organic profits.
Entrepreneurs who like to "eat problems for breakfast" bring business issues and challenges to discuss with peers. The Bootstrappers Breakfasts have been meeting on the second Friday of the month in Milpitas since 2008. Other Breakfasts are held in Minneapolis MN, Mountain View CA, Palo Alto CA, San Diego CA, San Francisco CA, and Sunnyvale CA.
Date: Friday, March 12, 2010  7:30 a.m. (2nd Friday of the month)
Location: Omega Restaurant, 90 South Park Victoria Drive, Milpitas, CA 95035  (Off Freeway 680 at corner East Calaveras Blvd. and South Park Victoria Drive)
Cost: $5 Advance Registration, $10 at the door

Info: see www.bootstrappersbreakfast.com.
At last month's meeting the roundtable topics included: forming a new business and getting it off the ground. It also included discussions about tips on building a customer base.  Members are saying great things about us:
"A great group of entrepreneurs in start up mode and restart mode. The greatest value of these meetings is that they refocus my thinking of what is possible."
"I attended my first Breakfast on Feb 13th in Milpitas. It's a great group, I wasn't sure what to expect, and I learned a great deal more about Patents, Trademarks, and Intellectual Property matters from the guest speaker. I met a dozen people and learned about the needs of others involved in small business endeavors. However, I felt a genuine camaraderie with these folks and will actively adjust my schedule in order to attend future meetings."
About Bootstrappers Breakfast®
Bootstrappers Breakfast® is for the founders of early stage technology startups. It is a chance to compare notes on operational, development, and business issues with peers. These breakfasts were designed for entrepreneurs to share ideas and leverage thoughts with other folks who are serious about growing their business.