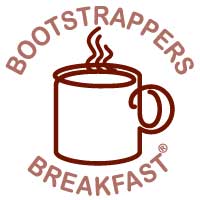 We have four Silicon Valley Bootstrappers Breakfasts® scheduled in the last two weeks of December. All of these Bootstrapper Breakfasts will feature a facilitated roundtable conversation among bootstrapping entrepreneurs, a chance to network before and after the formal meeting, and the opportunity to compare notes with other bootstrapping entrepreneurs who eat problems for breakfast. At a Bootstrappers Breakfast we have serious conversations about growing a business based on internal cashflow and organic profit: this is for founders who are actively bootstrapping a startup.
What Have You Learned That Will Make You a More Effective Entrepreneur in 2012?
In addition to our regular roundtable format of introductions followed by each attending suggesting  issues they would like to discuss or questions they have for the group we are going to discuss "What did you learn in 2011 that will make you a better entrepreneur in 2012?"
Four Bootstrapper Breakfast in Last Two Weeks of December
Here are the four Bootstrapper Breakfasts we have scheduled in the last two weeks in December
Cost is $5 in advance / $10 at the door plus the cost of your own breakfast (separate checks). Check us out over the holidays if you want an early morning conversation with other technology entrepreneurs.