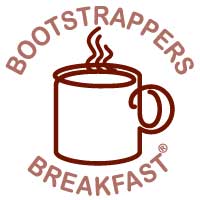 With the economy in Silicon Valley in the summer doldrums this is a great time to hone your selling skills. If your startup sells technology products or services to businesses you should consider taking part in discussions on how to gear up your sales efforts at the Aug 21 Bootstrapper Breakfast.
Scott Sambucci is Featured Speaker at Tue-Aug-21 Bootstrapper Breakfast
Scott Sambucci of SalesQualia will be a featured speaker at the next Bootstrapper Breakfast in Sunnyvale on Tuesday, August 21 at 7:30am. He will offer about five minutes of prepared remarks on sales tips for startups from his new book "Startup Selling" followed by a roundtable discussion with all attendees. We will have a drawing for two signed copies of the book. Bring your sales questions and situations you would like to discuss.
Here are his first seven rules that are often violated but easy to fix in ways that will immediately improve your sales effectiveness:
For inbound calls and leads find out why the prospect is inquiring about your products and services
Jumping right into a sales demo on the first call is the kiss of death. You have to elicit symptoms and offer a diagnosis before you offer your prescription
Use the telephone as the default mode of communication.
Speak human.
A lead is only a person of interest. A prospect is qualified individual for whom your product or service is a clear match.
A prospect's decision criteria is a formative process. It will always take more than a single call to determine.
It's never about the money. It's about the cost.
Register: Meetup.com/Bootstrappers-Breakfast-SV/events/71448282/
Cost: $5 in advance / $10 at door
---
I have blogged about Scott Sambucci's insights on sales and entrepreneurship at