You can follow @skmurphy to get these hot off the mojo wire or wait until these quotes for entrepreneurs are collected in a blog post like this one at the end of each month. Enter your E-mail if you would like new blog posts in your inbox.
Quotes for Entrepreneurs Curated in April 2013
+ + +
"Hope begins in the dark,
the stubborn hope that if you just show up
and try to do the right thing,
the dawn will come.
You wait and watch and work:
you don't give up."
Anne Lamott
+ + +
"When you need it, it's to late to start building it. This goes for all kinds of capital, and no one accepts an IOU for social capital."
Torbjorn Gyllebring (@drunkcod)
+ + +
"Usually zero product adoption isn't because that one feature wasn't added but rather that the problem wasn't properly understood."
Asif Khan Mandozai (@asifmandozai)
+ + +
"Not being able to govern events, I govern myself."
Michel de Montaigne
+ + +
"In my opinion dividing work into small, but different, batches (eating elephant one bite at a time) should not be called iteration. My reference case for iteration is Newton's method: improving your solution by repeating an operation on improved approximation of answer."
Donald Reinertsen (@DReinertsen)
+ + +
"If at first you don't succeed that's one data point."
Randall Munroe "Resolution"
More context: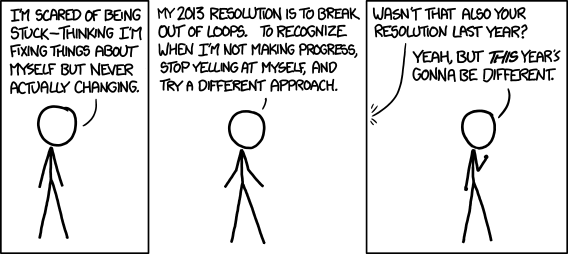 + + +
"If there's a common thread between endless startup failure stories, then it is "we talked to a bunch of people who said they'd spend money on this" and when push came to shove said people didn't actually spend money.
We're not failing, but even from a (modestly) successful startup perspective, the vast gulf between "people who like to talk to you as if they will spend real money" and "people who will actually spend money" is painfully apparent."
onan_barbarian on Hacker News
+ + +
"There is no such thing as simple. Simple is hard."
Martin Scorsese
+ + +
"The difficulty lies, not in the new ideas, but in escaping from the old ones, which ramify, for those brought up as most of us have been, into every corner of our minds."
John Maynard Keynes  from "The General Theory of Employment, Interest and Money" (1935)
+ + +
"Don't think of it as failure. Think of it as time-released success."
Robert Orben
+ + +
"To see takes time."
Georgia O'Keeffe
+ + +
Conway's Law For Startups: Attack a large firm at an interstitial between two or more business units."
Sean Murphy in Conway's Law: the Co-Evolution of Business Organization and Product Design
More context from  "How do Committees Invent" where Melvin Conway's observed what come to be known as "Conway's Law."
The basic thesis of this article is that organizations which design systems (in the broad sense used here) are constrained to produce designs which are copies of the communication structures of these organizations. We have seen that this fact has important implications for the management of system design. Primarily, we have found a criterion for the structuring of design organizations: a design effort should be organized according to the need for communication.
Another formulation of Conway's Law is that communication problems in an organization will be manifested in their finished products. One example of this is from Tracy Kidder's "The Soul of a New Machine" has a scene where Tom West, the leader of the Data General effort to develop a 32 bit mini gets a look at the VAX, DEC's competing machine:
"Looking into the VAX, West had imagined he saw a diagram of DEC's corporate organization. He felt that the VAX was too complicated. He did not like, for instance, the system by which various parts of the machine communicated with each other; for his taste, there was too much protocol involved. He decided that VAX embodied flaws in DEC's corporate organization. The machine expressed that phenomenally successful company's cautious, bureaucratic style. Was this true? West said it didn't matter, it was a useful theory."
Conway's Law for startups: Attack a much larger competitors at "interstitial opportunities" that will require two or more divisions of a larger firm to collaborate to be able to compete with you.
+ + +
"The growing good of the world is partly dependent on unhistoric acts; and that things are not so ill with you and me as they might have been, is half owing to the number who lived faithfully a hidden life, and rest in unvisited tombs."
George Eliot in Middlemarch
h/t Emily Esfahani Smith in "Relationships Are More Important Than Ambition"
+ + +
"Passitivity starves opportunity killing her in no less a direct way than deliberate action, but it often goes unnoticed and without question."
Torbjörn Gyllebring (@drunkcod)
+ + +
"Whats the biggest thing that makes you better? IQ, education, health, experience, determination, other people? I suggest: having suffered."
Ed Weissman (@edw519)
+ + +
"Creating a new theory is not like destroying an old barn and erecting a skyscraper in its place. It is rather like climbing a mountain and gaining new and wider views."
Albert Einstein
+ + +
"Beware how you take away hope from any human being."
Oliver Wendell Holmes, Sr.  in his valedictory address to medical graduates at Harvard University (10 March 1858)
More context:
You can never be too cautious in your prognosis, in the view of the great uncertainty of the course of any disease not long watched, and the many unexpected turns it may take.

I think I am not the first to utter the following caution: Beware how you take away hope from any human being.

Nothing is clearer than that the merciful Creator intends to blind most people as they pass down into the dark valley. Without very good reasons, temporal or spiritual, we should not interfere with his kind arrangements. It is the height of cruelty and the extreme of impertinence to tell your patient he must die, except you are sure that he wishes to know it, or that there is some particular cause for his knowing it. I should be especially unwilling to tell a child that it could not recover; if the theologians think it necessary, let them take the responsibility. God leads it by the hand to the edge of the precipice in happy unconsciousness, and I would not open its eyes to what he wisely conceals.
+ + +
"Be content to seem what you really are."
Marcus Aurelius
+ + +
"We can be knowledgeable with other men's knowledge, but we cannot be wise with other men's wisdom."
Michel de Montaigne
+ + +
Ignorance gives one a large range of probabilities.
George Eliot in Daniel Deronda (1876) [Text on Gutenberg]
+ + +
"Speakers who talk about what life has taught them never fail to keep the attention of their listeners."
Dale Carnegie
h/t  John Zimmer "Quotes for Public Speakers #129"
+ + +
"Fairy tales are more than true; not because they tell us that dragons exist, but because they tell us that dragons can be beaten."
G. K. Chesterton
+ + +
A triplet of quotes from Matt Barcomb (@mattbarcomb) on projects, programs, and portfolios.
"A group of people is not a team and a group of projects is not a portfolio."
Matt Barcomb (@mattbarcomb)

"A program is a group of related projects working towards a similar end goal."
Matt Barcomb (@mattbarcomb)

"A portfolio should strategically guide the use of capacity for
organization objectives."
Matt Barcomb (@mattbarcomb)
+ + +
"There are no secrets, only information you don't have yet."
Adam Curry
h/t Steve Mays
+ + +
"Shallow ideas can be assimilated; ideas that require people to reorganize their picture of the world provoke hostility."
James Gleick "Chaos: Making a New Science"