A collection of quotes of interest and use to entrepreneurs: these quotes for entrepreneurs were identified in May 2013.
You can follow @skmurphy to get these hot off the mojo wire or wait until these quotes for entrepreneurs are collected in a blog post at the end of each month. Enter your E-mail if you would like new blog posts to your inbox.
Quotes for Entrepreneurs Curated in May 2013
+ + +
"Hearing is listening to what is said. Listening is hearing what isn't said."
Simon Sinek (@simonsinek)
+ + +
"Naps are essential to my process. Not dreams, but that state adjacent to sleep, the mind on waking."
William Gibson, interview with Paris Review Summer 2011
h/t Steve Mays
+ + +
"A learning experience is one of those things that says, 'You know that thing you just did? Don't do that."
Douglas Adams, The Salmon of Doubt
+ + +
"Just because everything is different doesn't mean that anything has changed."
Irene Peter
+ + +
"Every $25k in revenue is another entirely dilution-free Angel investor."
Ted Rheingold in a comment on "Revenue vs. Value"
more succinct than my "Revenue, especially break even revenue, is never dilutive of your ownership." in "8 tips for evaluating funding alternatives."
+ + +
"Reid Hoffman is a genius, with a great vision. I just wish he'd join LinkedIn, and implement some of it."
Benedict Evans (@BenedictEvans) in "LinkedIn Annoys Me"
+ + +
"He who is outside his door already has the hard part of his journey behind him."
Dutch proverb
+ + +
"Okay, are you really 'experimenting'? How do you know if you're really experimenting? You're working on it methodically and you're publishing the results! It's not an experiment if you don't publish the results in some verifiable and falsifiable form, okay?"
Bruce Sterling in a blog post "Transcript of Reboot 11 Speech (June-25-2009)"
h/t Jennifer Anne Gergen (@palebluejen) on www.palebluejen.com
+ + +
"They sicken of the calm, who knew the storm."
Dorothy Parker
+ + +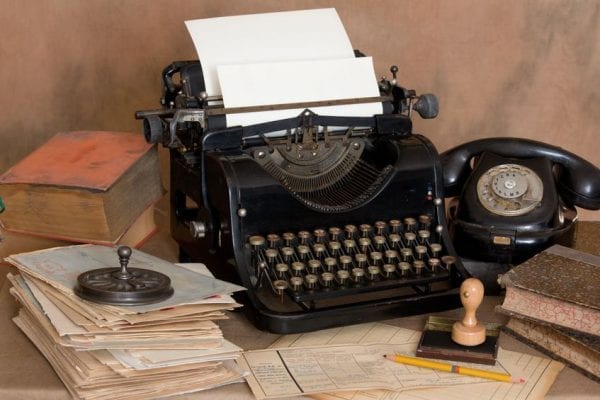 "We believe the typewriter is obsolete. Let's prove it inside before we try to convince our customers."
Mike Scott Apple memo 1980
Found in an Oct-1-1981 Inc. Magazine article by Steve Ditlea "An Apple On Every Desk"
Mike Scott ushered in a new age in office procedures. "EFFECTIVE IMMEDIATELY!! NO MORE TYPEWRITERS ARE TO BE PURCHASED, LEASED, etc., etc. Apple is an innovative company. We must believe and lead in all areas. If word processing is so neat, then let's all use it! Goal: by 1-1-81, NO typewriters at Apple… We believe the typewriter is obsolete. Let's prove it inside before we try and convince our customers."
h/t http://en.wikipedia.org/wiki/Eating_your_own_dog_food
+ + +
"Capability: what kind of value can we provide?
Capacity: how much?
Throughput: how often?"
Torbjörn Gyllebring (@drunkcod)
+ + +
"You can learn new things at any time in your life if you're willing to be a beginner. If you actually learn to like being a beginner, the whole world opens up to you."
Barbara Sher
+ + +
"I learned, when hit by loss,
to ask the right question:
"What next?" instead of
"Why me?" . . .
Whenever I am willing to ask
"What is necessary next?"
I have moved ahead.
Whenever I have taken no for a final answer
I have stalled and gotten stuck."
Julia Cameron
+ + +
"The skill of writing is to create a context in which other people can think."
Edwin Schlossberg
h/t David Gurteen (@DavidGurteen)
+ + +
Ancient wisdom:
deal in personal trust;
your word is your bond;
avoid extremes;
treat the money you invest for others as something sacred;
don't take any more perks than you would wish others to take;
don't borrow what you couldn't suddenly pay back;
imagine the worse case financial scenario and expect it very may well happen;
the wealthier you become the more humble you should act.

Victor Davis Hanson in "Ten Random Thoughts" (embedded in item 4)
+ + +
"That's the problem! We need to find smarter prospects!"
VP of Sales from $1B company now at a startup.
Recounted in "For New Products, Prospect Objections Are Valuable Data"
+ + +
"Do something.
Do something small.
Do something small but useful.
Do something small but useful now."
Bob Bemer
Unwrapped from his motto:  ((((DO SOMETHING!) SMALL) USEFUL) NOW!) and used in
+ + +
"Truth is much too complicated to allow anything but approximations."
John von Neumann
+ + +
"A life of leisure and a life of laziness are two things. There will be sleeping enough in the grave."
Benjamin Franklin
+ + +
"Projects shouldn't start off green, they should start off red.
Risky assumptions have not yet been validated."
David J. Bland (@davidjbland)
+ + +
"Life is short,
skill is long,
opportunity fleeting,
experiment perilous,
judgement difficult."
Hippocrates in Aphorisms (first one "Ars Longa, Vita Brevis")
Skill is sometimes translated as "art" but Hippocrates is offering advice to physicians and the Greek word, "Techne" has more to do with skill or craft than art. Here is the second sentence:
The physician must not only be prepared to do what is right himself, but also to make the patient, the attendants, and externals cooperate.
+ + +
"If you want to teach people a new way of thinking, don't bother trying to teach them. Instead, give them a tool, the use of which will lead to new ways of thinking."
Buckminster Fuller
+ + +
"Nothing is more effective than sincere, accurate praise."
Bill Walsh
+ + +
"Focusing on solving the problem is often the biggest impediment to actually understanding it."
Torbjörn Gyllebring (@drunkcod)
+ + +
"Time is the raw material of creation. Wipe away the magic and myth of creating and all that remains is work:
the work of becoming expert through study and practice,
the work of finding solutions to problems
and problems with those solutions
the work of trial and error,
the work of thinking and perfecting,
the work of creating.

[…] The math of time is simple: you have less than you think and need more than you know."
Kevin Ashton "Creative People Say No"
+ + +
"A theory should not attempt to explain all the facts, because some of the facts are wrong."
Francis Crick
+ + +
Photo Credit Petr Student; licensed from 123RF