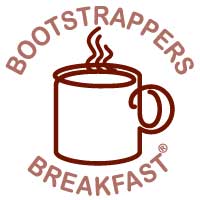 Join other entrepreneurs for serious conversations about growing a business based on internal cash flow and organic profit at a Bootstrappers Breakfast®. Paul Spaan, CEO of Spaan Enterprises, will offer a seven minute briefing on "3D Printing For Bootstrappers" and circulate examples of prototype products he has printed. Paul's briefing will be followed by our regular roundtable discussion format.
When: 9:00am to 10:30am Fri-May-24
Where: Red Rock Coffee, Mtn View (2nd Floor)
Cost: $5 RSVP, $10 at door (order your own coffee downstairs).
Paul Spaan worked as a mechanical engineer for more than two decades at major Silicon Valley technology firms before launching Spaan Enterprises to explore his long term interest in 3D printing. He will share some lessons learned from the installation and bringup of two 3D printers and bring examples of prototypes he has designed and printed for a seven minute "show and tell" and take part our regular roundtable discussion.
Paul anticipates that 3D printers that now cost less than $20,000–and in many cases much less than $20,000–will enable new categories of small scale manufacturing businesses in the same way that personal computers and high performance workstations enabled new kinds of information and knowledge processing businesses.
Bring your questions about the business opportunities for bootstrappers that 3D printing is now enabling.
Paul believes that we are in the midst of a price performance transition that will have as significant an impact on product design
and production at small firms as low cost laser and inkjet printers combined with desktop publishing software did for the design and production of product printed content.
---
Update-Thu-Sep-2 Audio Now Available