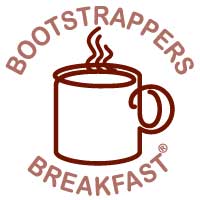 Paul Spaan worked as a mechanical engineer for more than two decades at major Silicon Valley technology firms before launching Spaan Enterprises to explore his long term interest in 3D printing. On Friday May 24, he shared lessons learned from the installation and bringup of two 3D printers and some examples of prototypes he has designed and printed  at the Bootstrapper Breakfast in Mountain View.
Here is the edited audio from the session that also captures many of the audience questions:
It's also available for download directly : SpaanBB130524b
3D Printing Definition and Timeline
Paul provided the following definition and timeline:
3D printing–also known as additive manufacturing or positive manufacturing–is a process of making a three dimensional solid object of virtually any shape from a digital model.
70's Stereo Lithography (SLA) laser cured liquid photo polymer (3D Systems / NYSE:DDD)
80's Fusion Deposition Modeling (FDM) melting plastic filament (Stratasys Inc / NASDAQ:SSYS)
80's Selective Laser Sintering (SLS) for metal, ceramics, or plastics, etc…
90's Rapid Prototyping service bureaus became available: Raychem,Quickparts, SolidConcepts, etc…
2007 Reprap homegrown (FDM) "self-replicating" printer hits open source maker  movement (See RepRap Family Tree)
2012 consumer level printers hit the mainstream media
2013 MakerBot makes the Today Show, 3D Systems "Cube" sold at Staples.
Related Articles and Blog Posts