While there are many challenges to master in building a new business, technology entrepreneurs have to balance three primary aspects:
Team: can you assemble the talent required and keep them together and moving forward?
Technology development: can you build a working product?
Customer development: can you solve a problem that people will pay for?
There are many more unknowns than these basic ones. A good advisor does not have all the answers but is familiar with the challenges of getting a new company started and a new product launched. A great advisor can help you design experiments to reduce risk and uncertainty and find answers that are "good enough" to keep moving forward.
We help you make sense of the market by correlating what you have observed with stories you have collected and data you have gathered. We help you form hypotheses and design experiments that tinker with your initial product concept so that you can explore the boundaries and depth of a prospect's problem.
We offer accountability groups and consulting to help you design, test and learn from your experiments.
Interested in checking us out?  Contact us to book a free office hour conversation to get started.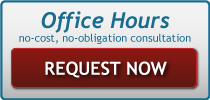 ---
Related "Office Hours" posts: