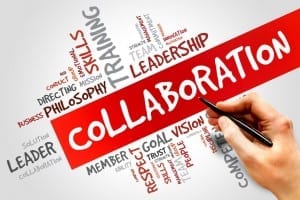 We work with several teams who have launched or are launching an application that makes a team or group more productive.  Here are a couple of suggestions for things to consider.
Be compatible with the status quo if at all possible
Collaboration or workflow applications that require at least two people to adopt in order to realize productivity benefits are very challenging to introduce.
It's certainly been done: fax, email, CRM systems. But the list of failures is much longer.
Find a way to provide a single individual with a productivity bonus that is backward compatible with existing workflow (e.g. email, CRM, wiki, website, …).
Use your team as a case study
Is your startup using the tool for collaboration? If not, why not?
What no longer happens that used to happen before you started relying on the application?
What can you now do using your application that you could not do (or only do with great difficulty) before?
Have conversations before putting up a landing page
What have you learned from your conversations with prospects?
What problems or needs do you probe for?
Use your team as an earlyvangelist
What problems or need or recurring situation led your team to develop your application?
What alternatives did you try to do before you developed your application?
Why were they unsatisfactory? What was missing or still too difficult?
Listen carefully to your early adopters
What do your early adopters tell you that they like about using the service?
What benefits does it provide them?
What do they still see as missing?
Ask what three features they would demo either to other similar teams or to others in their company.
Understand why some teams failed to adopt your application
Teams that don't try it may give you reasons, and these are worth listening to.
Pay close attention to teams that gave it a fair trial and decided not to go forward. Their rationale is absolutely worth addressing.
If you are working on a collaboration application for business and are having difficulty getting traction, please free to schedule office hours and we can design some experiments to explore your situation, see "We help you design experiments that move your business forward."
Related Blog Posts