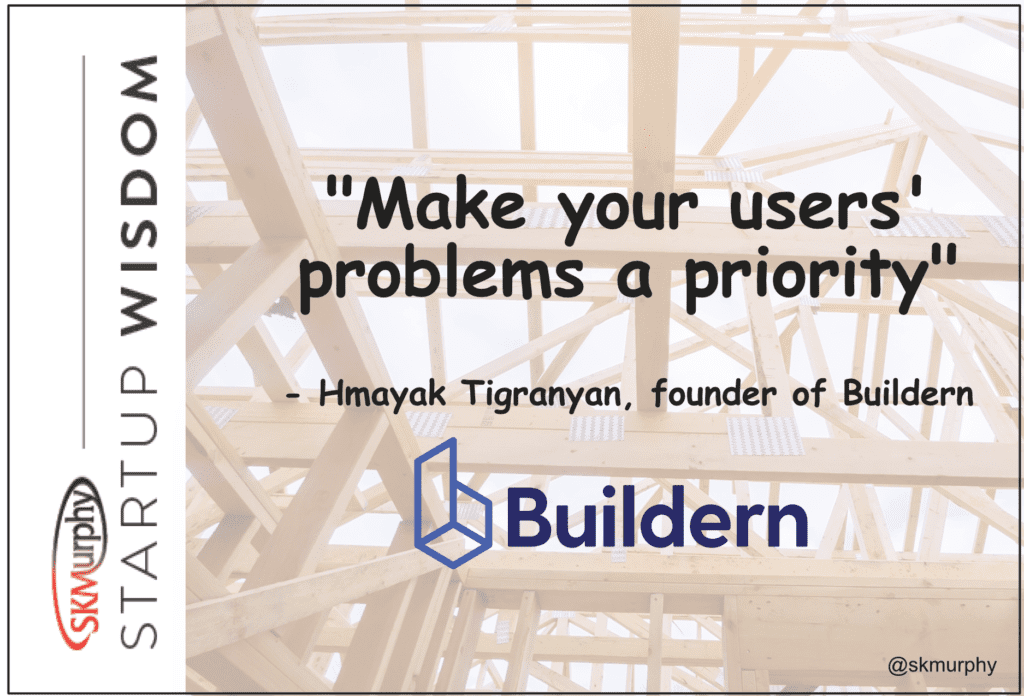 Recently we interviewed Hmayak Tigranyan, founder of Buildern, a project management tools for the construction industry.
Q: Can you talk a little bit about your background?
From engineering to product development, I have worked in the tech sector for 15 years and have learned all the ins and outs of the industry. That helped and inspired me to create my own two startups, both of which helped me to understand the startup culture better. That's why, when I started to work on Buildern I had both the knowledge of the tech industry and a good understanding of how to create and manage a startup.
Q: Can you talk a little bit about what led you to found your company, what was the problem that motivated you?
I had a lot of friends working in construction companies who kept complaining about the management processes and the lack of digitalization in the industry.
When I took a look at the tools they were using, I was pretty shocked: they were all outdated and lacked key management features, so I thought that something had to be done to fix the situation. That's when the idea of construction project management software came to my mind, and I started to develop it.
Q: How did you get started?
I founded the company in April 2021 with a team I've already known for years. Together, we've decided to start developing the software and offer an all-in-one management solution to all the construction companies that are still wasting a lot of time and effort with paperwork, or don't have enough budget to update their tool to a more modern one.
Q: Can you give me a brief overview of where the company is today?
Today, Buildern is in the active development phase— we're working hard to make it one of the best management platforms out there. Currently, we're collecting user feedback to make our platform entirely match the needs of all our target customers.
We make the software helpful for all different workers in the industry, including construction managers, project managers, home builders, commercial contractors, remodelers, and general contractors.
Q: What key skills or expertise influences your work or inform your practice?
I think most of the skills and expertise that I use now to grow our startup I got from the years of working in the SaaS product development sphere, where I experimented with various approaches and strategies.
I've learned everything I could: from sales, marketing to design and development. Now I bring all of that knowledge to my startup, giving my feedback on all different aspects of the software to ensure that it meets all the standards.
One crucial thing that I understood during these years is that being able to keep and lead the team is one of the most critical tasks of the startup owner. You need to be patient and understand that quality work takes time. So I always encourage my team throughout their work and honor them for even the smallest victories. In my opinion, this is how you get to succeed: by working as a team and motivating one another.
Q: What are the two or three things that you have been able to accomplish that you take the most pride in or satisfaction from?
Overall, I would say that helping our customers to avoid budget and schedule overruns is our biggest achievement. We've helped our customers to save roughly 30% of their time by offering smooth management processes and giving more opportunities for their business to scale and attract new clients. I think that's really an accomplishment to be proud of!
Q: What has been the biggest surprise? What was one key assumption you made, perhaps even unconsciously, that has caused the most grief?
I didn't prioritize transparency before I realized that most companies struggle to provide visibility for their clients. However, from our customers' experience, we figured out that when the construction companies do not deliver visual proofs and reports to their clients, the level of trust decreases, eventually making their clients less satisfied.
Thus, we've tried to make Buildern the platform which ensures that visibility by making our customers able to provide real-time updates and proofs (photos, documents, videos, etc.) of the work they're doing.
This eventually makes clients happier, which, in its turn, improves the company's reputation.
Q: What development, event, or new understanding since you started has had the most impact on your original plan? How has your plan changed in response?
We've realized pretty quickly that our clients had a hard time onboarding. Most of our users were not really tech-savvy, so they needed something really simple and straightforward. That's why, we've changed our software accordingly, making it easier to transfer the data from the previous tool to Buildern, and to overall get the grasp of it. Now, even the absolute beginners will understand how to use Buildern really quickly, thanks to our intuitive interface.  We test each and every change before we push it live and ask our customers what they think about it. That's why using Buildern feels so effortless.
Q: Any other remarks or suggestions for entrepreneurs?
I'd say always make your users' problems a priority and try to offer the most efficient solution. And although it might sound cliché, don't forget to stay passionate about your work— enthusiasm and hard work are what help startups succeed.
Q: Always good advice. Thanks for sharing your founders journey with us.
Related Blog Posts