Scott Swaaley: "A good advisor provides context and helps you to clarify the best approach to a deal. Sean Murphy provides a wealth of perspective on business rules of thumb, successful practices from larger firms in different industries, and established business theory."
Scott Swaaley: A Good Advisor Provides Context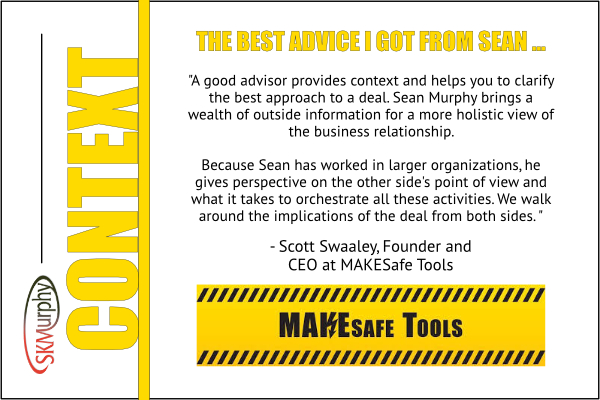 "A good advisor provides context and helps you to clarify the best approach to a deal. Sean Murphy brings a wealth of outside information for a more holistic view of the business relationship. Because Sean has worked in larger organizations, he gives perspective on the other side's point of view and what it takes to orchestrate all these activities. We walk around the implications of the deal from both sides.

Sean provides a wealth of perspective on business rules of thumb, other successful practices from larger firms or different industries, and established business theory. He's read so many books that when he gives advice, it's not just limited to his personal experience and what he thinks. It is broad and deep. He's good at linking his ideas back to resources that are bigger than himself, which gives you some comfort that it's not just an opinion. It gives you somewhere to dig if you want to go a little deeper on your own."

Scott Swaaley, Founder and CEO at MAKESafe Tools
SKMurphy Take: the key challenge in advising entrepreneurs is to help them walk around the options and explore the consequences of each decision. John Smith and I collaborated on a series of "MVP Clinics" where we describe a process of walking around a problem to find its shape. When "walking around a problem" we work to:
Deliberately avoid "jumping to conclusions" too soon
Enlarge the scope of solution-finding by getting to know more about what the problem looks like from as many sides as we can
Create a safe and non-confrontational inquiry process that doesn't inadvertently close off aspects of a problem or potential solutions
Use informal tools that are the electronic equivalent of a shared napkin so that we create a resource that people can come back to
Acknowledge time boundaries by identifying experiments or sources of information that could make the problem and its solution clearer
More about MAKESafe Tools
Headquartered in San Diego, CA, MAKESafe Tools, Inc. manufactures the MAKESafe Power Tool Brake. Our emergency stop system protects machine operators from accidental restarts, emergency situations, and coasting machinery.
Related Blog Posts