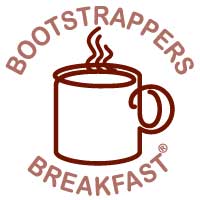 Pete Tormey moderates the Dublin/Pleasanton Bootstrapper Breakfasts® (along with Richard Moerschell) and fills in from time to time in San Francisco as well. I asked him what he felt some key benefits attendees gained at a breakfast and he sent me a great three minute podcast that I have embedded below. He identifies three benefits he see attendees gaining from the conversation at a Bootstrappers Breakfast:
Being around other bootstrapping entrepreneurs renews your enthusiasm
Serious suggestions from other attendees can spark your own creativity in addressing business challenges
Comparing notes can give you peace of mind knowing that many folks are wrestling with the same issues.
Or download directly: PTormeyBB100920
We also have three Bootstrapper Breakfasts® this week in Silicon Valley
7:30am to 9:00am Tue-Sep-21 at Coco's at Lawrence and Oakmead in Sunnyvale
7:30am to 9:00am Thu-Sep-23 at Athens Burger Restaurant in Dublin
9:00am to 9:00am Fri-Sep-24 at Red Rock Coffee in Mountain View
These breakfasts cost $5 if you register in advance (plus the price of your own food and/or drink) and give you a chance to compare notes with other technology entrepreneurs.