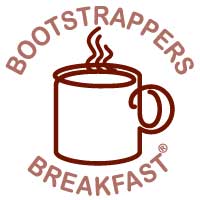 We are relocating the East Bay Bootstrappers Breakfast® to Walnut Creek tomorrow. Please join us for our inaugural breakfast at the Heavenly Cafe on 3116 Oak Road. Pete Tormey, the regular facilitator, has asked me to speak on "Mapping the Path to Your First Dollar of Revenue."
Speakers at the Bootstrappers Breakfast normally only present for six minutes and I will be no exception,. Please join us if this new location is more convenient.
When: Tue-Jan-25 7:30am to 9AM
Where: Heavenly Cafe, 3116 Oak Road, Walnut Creek, CA
Cost: $5 plus the cost of your breakfast, tax, and tip.

Join other entrepreneurs who eat problems for breakfast® on January 25 in Walnut Creek.