Here are five quotes for entrepreneurs from Branch Rickey's Little Blue Book: Wit and Strategy from Baseball's Last Wise Man by John Monteleone.
Five Quotes For Entrepreneurs by Branch Rickey
"Things worthwhile generally don't just happen. Luck is a fact, but should not be a factor. Good luck is what is left over after intelligence and effort have combined at their best. Negligence or indifference are usually reviewed from an unlucky seat. The law of cause and effect and causality both work the same with inexorable exactitudes. Luck is the residue of design."
I think I like this sentence the best: "Good luck is what is left over after intelligence and effort have combined at their best."
I heard a manager say: "Well, if he didn't have that particular pitch, he would not even be in professional ball, and here he is, going in the majors or he's in AAA." Well it's just as sensible to say that if Padrewski couldn't play the piano, he'd starve to death.  The thing Padrewski's doing is the thing he's practiced since he was eight years of age, for approximately 8 hours a day in the first twenty years of his life, solemnly sitting at a piano preparing to do this particular thing. The mark of distinction that the man reaches is earned; if he couldn't do this thing he would be no good. The fact is–he's paid  a tremendous price to be able to do this particular thing.
You can't be good at everything. Pick methods and skills that your team is willing to practice enough to master that can be a basis for differentiation.
First of all, a man, whether seeking achievement on the athletic field or in business, must want to win. He must feel that the thing he is doing is worthwhile; so worthwhile that he is willing to pay the price of success to attain distinction.
The best teams are motivated by a sense of mission, of working on the worthwhile. When they have a why they will find the how.
Don't take away the confidence of a man in what he now has until he agrees with you that what he has won't do. You better be on the safe side and urge him to keep what he has until what you are working on as a substitute proves better. Don't force him to abandon bad form until you have substituted good form.
Good advice for managers, especially for managing knowledge workers.
Never surrender opportunity for security.
This may be a good definition for the entrepreneurial mindset: entrepreneurs are unwilling to give up completely on the opportunity to make things better by clinging to what they have now.
Branch Rickey's Little Blue Book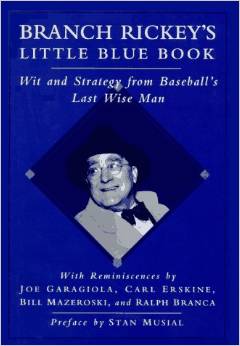 I traced the source of "luck is the residue of design" to Branch Rickey and decided if he had one good quote he probably had others. I picked up a copy of Branch Rickey's Little Blue Book: Wit and Strategy from Baseball's Last Wise Man by John Monteleone as a part of my research on what else he had written and discovered a trove of insights. All of the quotes for this blog post were sourced from this book.
Rickey was a complex man with a rich and varied background at various times he worked as a teacher, lawyer, officer in World War I, professional baseball player, manager, and owner. His biography from the baseball hall of fame outlines the impact he had on the game:
After a mediocre career as a player and manager, Branch Rickey spent half a century in the front office as baseball's greatest visionary executive. With the St. Louis Cardinals in the 1920s and '30s, Rickey invented the modern farm system, promoting a new way of training and developing players. Later with the Brooklyn Dodgers, he pioneered the utilization of baseball statistics. In 1945, he became the first executive to break baseball's color line when he signed Jackie Robinson, who became the major leagues' first African-American player in the 20th century.
Andy McCue  wrote a biography of Rickey for the Society of American Baseball Research that included the following observations about Branch's decision to break the color line in baseball by signing Jackie Robinson to play for the Dodgers:
Rickey's decision to seek black baseball talent came fairly soon after he joined the Dodgers. His pursuit of black players was a typical combination of motives and methods. It was a product of his religious beliefs; of his desire to win and draw fans; and of his ability to see baseball in the context of American society. It was conducted not by looking for just the best baseball talent, but for the best combination of on-field talent, maturity, and intelligence. For his African American torchbearer, he chose a college-educated man who would be twenty-seven before he played even one game in the white minor leagues. He chose Jackie Robinson in part because he was from California, in whose milder racial climate he had played most of his life on integrated athletic teams. Rickey encouraged him to marry his fiancee, a move he felt always helped a ballplayer's career. Robinson went on to justify Rickey's gamble in every way and cement a lifelong relationship between the two men.
Related Blog Posts
Subscribe To Get More Quotes For Entrepreneurs
You can follow @skmurphy to get these quotes for entrepreneurs hot off the mojo wire or wait until the end of the month when they are collected on the blog. Enter your E-mail if you would like new blog posts to your inbox.