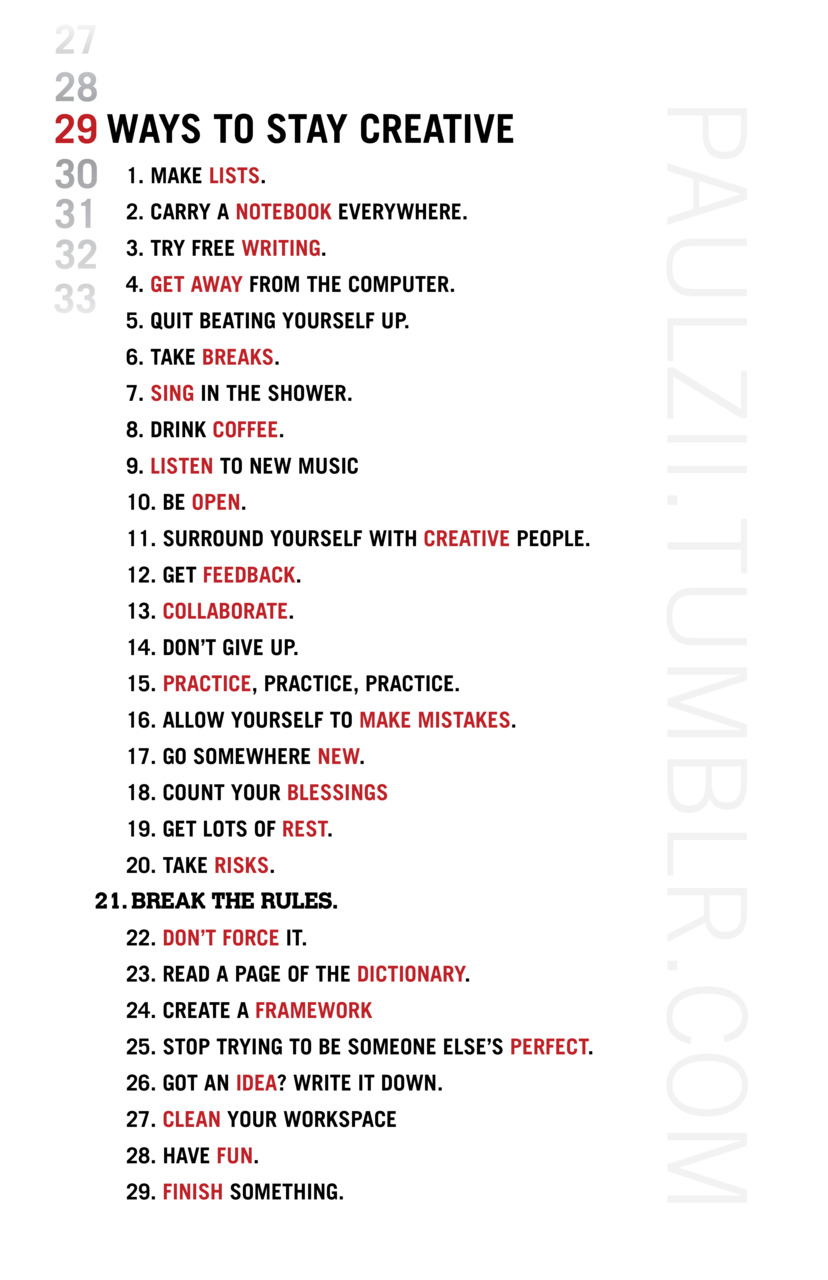 Paul Zappia  (@PaulZii) aka "Paul Zii" blogged a great list of "29 Ways to Stay Creative." Here are my top 10 from his list (shown at left) with some comments added.
1. Make Lists. To Do Lists, Shopping Lists, Things to Try, Experiments to Run. If only for the pleasure of crossing items off you complete.
2. Carry a Notebook Everywhere. Or at least a stack of 3×5 cards.
3. Try Free Writing. This is also called "Morning Pages" it's a way of overcoming perfectionism and writer's block by writing for ten or twenty minutes every day.
9, Listen to New Music. I find music can unlock my creative juices, but I would add read new authors, especially in long form–books and magazine articles–to provide more new ideas.
12. Get Feedback. Ask for written feedback, thank folks when they provide it and act on it.
13. Collaborate. I have increased my output and quality of results in the last two years by finding "creative workout buddies" to work on projects.
16. Allow Yourself to Make Mistakes. Varying your approach allows you to stumble on to the "adjacent possible" instead getting stuck in a rut.
18. Count Your Blessings. Helps me get my mind off of what I don't have, and reminds me to thank folks I have enjoyed collaborating with in the past.
24. Create a Framework. I try to take a systematic approach to projects and plan for recycling or remixing intermediate building blocks between projects.
29. Finish Something. Probably the hardest thing for me to do these days.
Here is a video of Paul Zappia's list created by To-Fu Design (@tofu_design)
---
For more on Paul Zappia see