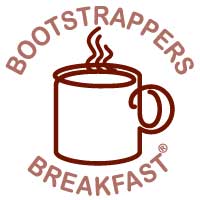 Matt Oscamou, the founder of Frontier Bites, talked about lessons learned getting a food startup off the ground at the April 15 Bootstrapper Breakfast in Sunnyvale. Here is a short recording of his introduction, the benefits the Bootstrapper Breakfast® has offered him, and how he came to bootstrap Frontier Bites with his brother and persevere after his brother passed away in a rafting accident.

Download: http://traffic.libsyn.com/skmurphy/Oscamou-Intro-BB140415.mp3
A transcript of his introduction is available at Matt Oscamou talks about founding Frontier Bites, recap from April 15, 2014
Matt Oscamou: I have a food company in Silicon Valley, bucking the tech trend. I was over at Red Rock Coffee working in the downstairs area and I saw "Bootstrappers Breakfast" on the calendar so I figure I would try to find out what that was. This was right when I was getting going. It's been a helpful group ot bounce some ideas off of. My attendance has been relatively sporadic based on the needs of the business. It's been good.
I started the Bootstrapper Breakfasts in Sunnyvale in October of 2006. I was fed up with attending events where the only focus was on how to raise money from investors and where aspiring entrepreneurs would talk about what they would do once they raised money but not what they were doing to move their startup forward now.
One of the things that surprised me in the first year was that people would come for a variety of reasons. Some would attend regularly, others would come only once and a large fraction would attend when they had issues that they wanted to discuss. I thought Matt captured that neatly in his intro.
Related posts: