Further Reflections on My Father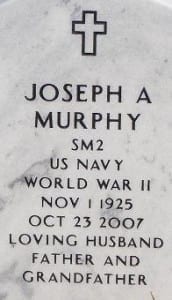 Some further reflections on my relationship with my father seven years after his death.
"I understood that the man I was calling for could never ever come back.
Because I understood that the man that I was calling for was dead."
Anne Lamott in "Traveling Mercies: Some Thoughts on Faith"
I figured he had lived through so many things that as long as he stayed indoors and avoided getting hit by lightning he would come to my funeral in a decade or two. At the time I told close friends that it hadn't really sunk in yet. I would normally talk to him once a week for an hour or so. Now I mainly talk to him in the shower when he chews me out from time to time for a recent stupidity. He asks me what I am going to do to fix or improve a situation and my most common answer is "I don't know."
Robert Anderson observed, "Death ends a life, but it does not end a relationship, which struggles on in the survivor's mind toward some resolution which it may never find." That's certainly true in my experience. My father's advice was especially on point in difficult situations, he could cut to the heart of issues and understood how to calculate downside risk and determine possible courses of action that would minimize the potential damage or worst case scenario. As I work with other attorneys I see this as a not uncommon strength of the profession. It's certainly a perspective I fit naturally into.