Henna Inam Releases New Book "Wired for Authenticity"
Theresa Shafer recently assisted Henna Inam with a survey for her new book "Wired for Authenticity."

Henna Inam Releases New Book "Wired for Authenticity"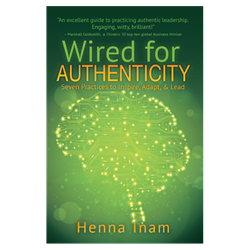 Henna Inam, CEO of  Transformational Leadership Inc. has released a new book "Wired for Authenticity", leadership book addressing the challenges by showing up authentically, expressing yourself fully for the benefit of others. One reviewer noted:
"Authenticity is a word thrown around without much thought as to what it actually means. Henna Inam presents it clearly, with easy to implement actions to put the concept into practice. As a former business executive and now an executive coach, I highly recommend this book to anyone wanting to make a leap in their leadership skills or to develop a team that will work together toward superior results. Some of her ideas may seem unconventional, but skeptics can be reassured when she presents the science behind them. The author's sharing of her personal experiences make this not only a practical book for leadership development, but also an enjoyable read."
Amazon Review "Both a Practical Book for Leadership and an Enjoyable Read"
and another was equally impressed:
"The author connects neuroscience, meditative practices and real life stories from the "corporate world" – her own and her executive coaching clients' – all in service to present the importance and benefits of authenticity and to "package" to be practical and relevant for leaders and organizations.

Great structure, clear and fun read, tons of tools to pick and choose from to address specific areas for authenticity – and if one is not clear where to focus, the book comes with an easy Authenticity Assessment!"

Amazon Review "A clear and powerful business case for authenticity in leaders and organizations"
SKMurphy Assisted with Survey
"I hired Theresa Shafer to create a survey tool for me for my book Wired for Authenticity. What I liked best about Theresa is how she was as passionate about the project as I was. She took full ownership, always went the extra mile to make sure that the details were taken care of. The quality and timeliness of her delivery was outstanding. I would highly recommend Theresa."
Henna Inam, CEO
Trackback from your site.