David Telleen Lawton will offer a detailed briefing on the nuts and bolts of Customer Discovery Meetings from a sales perspective at Lean Culture on Tue-Jun-26-2018.
David Telleen Lawton on Customer Discovery Meetings
David Telleen-Lawton has been using Lean concepts for decades. He was an early collaborator with Frank Robinson on the SyncDec model which articulated the need to do customer development in parallel with product, a decade before Steve Blank wrote "Four Steps to the Epiphany"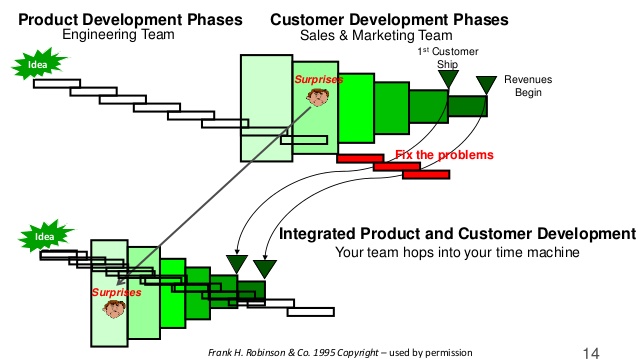 In a traditional model product specification is locked down, the product is developed to the specification, and then the sales team takes the first generation collateral and starts selling. This has several advantages in the near term–the development team can be efficient because the specification is frozen and the sales team sell what they have and wait for the product to be ready for delivery before they start selling it. The principal disadvantage unless the product is a simple upgrade sold to an existing customer base it can be very hard to anticipate what will actually be needed to get customers to part with their money.
Talking to Customers
"I still find (after all these years) talking to customers the hardest. I always come up with reasons why I don't have to."
Eric Ries, 22 October 2015, Live Chat, The Leader's Guide
David Telleen-Lawton has worked nearly his entire career working with and within startups (e.g., building the first ARPAnet interfaces, early color printers, communication chips, WiFi, image recognition, network security) with his latest being the Master of Technology Management degree program at UC Santa Barbara. Building upon his BS/MS Industrial Engineering degrees from Stanford University and love of process, Telleen-Lawton adopted Lean-like principles back in the late1 980s and has decades of practical experience in "getting out of the building". He has presented at the Lean Startup Conference about the nitty gritty of setting field meetings with prospective customers.
Next Lean Culture Meetup
As our next Lean Culture speaker, Telleen-Lawton will focus on what he considers the key to successful Lean product development — invoking the selling model in Customer Discovery meetings. He will also show how Lean can be used for your own career development.
When: Tue-June-26 7pm to 9pm
Where: Sacred Space Coworking 2490 Middlefield Road · Palo Alto
Cost: No charge but please RSVP so we can get a headcount
SKMurphy Take
I am excited to see David Tellen Lawton offering his insights and experience on customer discovery interviews. He has a rare background: an experienced sales person who is able and willing to do discovery driven sale for startups.
Skip the "I'm not trying to sell you anything statements." Not only are they received similar to "I'm telling the truth, really." type of statements, it is plain wrong-headed. Here's what I say, "Thank you for agreeing to meet with us. As we told you on the phone, we're working on helping to solve the problem of this or that. We're trying to make sure our solution hits a bull's-eye with the problem and understand it's value to users. It's also a chance for you to put your thumbprint on our solution to be sure it solves your problems. Our solution is still under development and after we learn a bit more about your situation and requirements in our discussion today, we will show you how far we've come. Although we won't be asking your for a purchase order today, we would expect that if our product delivered value to you and fit with your circumstances, that we would be coming back here and asking you to purchase it. So please be very candid with your answers. How does that sound? Should we get started?"
David Telleen Lawton in a comment on "Bad Customer Development Questions and How to Avoid My Mistakes"
Related Links for David Telleen Lawton
Related Blog Posts