There are several insights for bootstrappers in William Eleazar Barton's "The Icebergs and the Fog." It's a "Safed the Sage" parable published in 1925
William Eleazar Barton: The Parable of the Icebergs and the Fog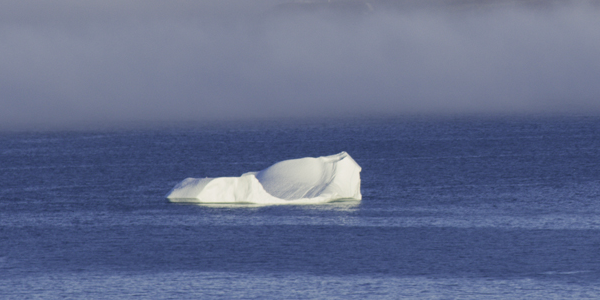 I journeyed upon the Ocean, and I was approaching mine own Country. And the Ship drew nigh unto the coasts of Labrador, and there were Icebergs and Fog. And that is a Bad Combination.

Now it came to pass at night, that I rose from my Berth, and walked upon the Deck. And the Deck was Vacant, save that I discovered in a Deck Chair, Hunched up, and wrapped in a Rug, and Old Sea Captain, who was not then in service but was returning from a trip he had taken to Europe for Pleasure. For always before when he sailed, it had been on  Business and he wanted to see how it seemed to sail and have No Responsibility.

And I sat down in a chair beside him, and I said, "How is it that thou art not asleep?"

And he answered, "I thought this was a Pretty Good Night for a man to be on Deck."

Now I meditated concerning this matter, for I knew that this Captain had sailed his ship through much Ice and Fog, and I was interested in the fact that he was Nervous. I said, "We are going only at Half Speed."

And he said, "Peradventure we hit an Iceberg, wilt thou kindly inform me how much difference it will make, as we go down in the Deep, Cold Ocean, whether we hit at Half Speed or Full Speed?"

And I said, "Captain, thou dost interest me. For thou art an Old Sea Dog and thou knows all the Fogs that gather off the Grand Banks, and thou art the most nervous man on board."

And he said, "Thou art right. And the reasons are these. In the first place, I know the Dangers as these Landlubbers do not. Every Old Salt doth fear the Sea. It is only the Inexperienced and the Foolhardy who treat the Ocean with Disrespect. In the next place, there is nothing I can do about it. Peradventure I were on the Bridge this night, in command of this Ship, then should I be brave, and no man should see me tremble. But when there is danger, and I have nought to do but stay below like a Landlubber, then I am timid, and I cannot remain in my Berth. Yet would I not have anyone know it, for I have spent my life upon the Sea."

And I said, "It would not surprise me to know that every Old Salt is affected in Precisely the same way, and I think that I should be. And this do I believe, that if I were Master of a Ship, I should be a man of courage when there is responsibility resting upon me, and a man of Timidity when I had nothing to do.

Now this I have seen among men, and perhaps more often among women, that though they seem weak and frail, yet is there that in them which their good God put within them that causes them when the Emergency Cometh to rise and meet it bravely, though the thing that they were called upon to do seemed impossible. And I have seen strong men who grow faint at the sight of a small fear, when there was nothing that they could do to Help.

William Eleazar Barton "The Parable of the Icebergs and the Fog" Feb-3-1923 Universalist Leader
It can also be found in the fifth collection of Safed the Sage parables: "Fun and Philosophy of Safed the Sage" (1925)
SKMurphy Take
William Barton uses icebergs and fog as a vivid metaphor for the risks we need to navigate in our life and business, and the uncertainties that surround them.  Certainly an appropriate story for 2020, which has turned into a much more turbulent year than we might have anticipated in January. Forecasts we made in the first quarter–and the plans we put in place as entrepreneurs to support them–have been obsoleted by events.
This is one of the last "Safed the Sage" parables that Barton wrote, and there is a sense of a man in old age watching events unfold that he used to control, or at least influence. When you are waiting for results, either because you have taken the actions you could, or events are out of your control, there still a few things you can do.
You can make preparations to mitigate worst case results: consider what you can do now to limit the amount of damage that a range of bad outcomes might deliver.  If you find yourself trapped in a worry loop then prayer, meditation, exercise, and sleep are all good options. At some point you will have an opportunity to act, to help, to have an impact. If you are well rested and clear headed you will be in a much better position to take action.
Easy to say, hard to do: the old Sea Dog might have been better served getting a good night's rest or praying if he could not sleep. But submerging in a cloud of worry was probably not his best option. But, easy to say, hard to do.
Related Blog Posts
Safed the Sage Stories
Barton published 326 of these stories in five volumes between 1917 and 1925:
The Wit and Wisdom of Safed the Sage (1919) In the foreword Barton explains the origin of the name Safed:
"So far as we know, no man except the author of these Parables bears or has borne that name. He did not wish to choose a name either from the Bible or from the Arabian Nights, and so invented one. The name was not, however, invented wholly out of nothing. There is in Northern Galilee a village called Safed or Sefet, lying north and a little west from the Sea of Galilee, and plainly visible from the traditional site of the Sermon on the Mount, and believed to be the "city set on a hill, which cannot be hid." The author visited this site some years ago, and the name came to him somewhat spontaneously as a convenient one for the character which he has assumed in these chapters
Safed and Keturah (1921)
More Parables of Safed the Sage (1923)
Fun and Philosophy of Safed the Sage (1925)
Garth Rosella and Stan Flewelling collected 80 of William Eleazar Barton's stories in "Parables of a Country Parson" (a reprint of their earlier "Millionaire and the Scrub Lady").
Photo Credit: (c) Zach Bonnell "Iceberg in the Fog" used under creative commons license.