To close enterprise deals is a complex undertaking that requires you to orchestrate a mix of conversations and other activities with three kinds of stakeholders: technologists, managers, and executives.
Address Technology, Management, and Executive Concerns To Close Enterprise Deals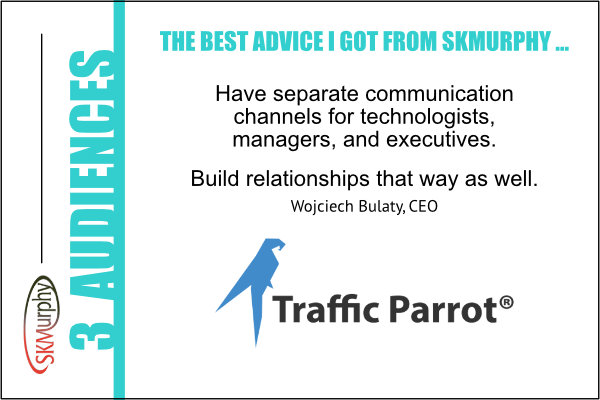 To close enterprise deals it's not enough to sell to technologists, you also need to satisfy managers and executives. Each of these three groups have different concerns and different methods for evaluating the impact of your product. You need to satisfy the technical people that the product is technically viable and they need to convince the managers that the product's going to work and solve their problem. Managers tend to focus on headcount and training, and how to account for them in the budget. Executives are concerned about making a profit, about the return on investment (ROI) of the money they spend on your product.
This requires you to have three distinct but related messages that you communicate through separate channels to technologists, managers, and executives.
Technologists tend to prefer diagrams and detailed technical write-ups they can review before they speak with you. They are normally thorough and want to go into detail to make sure what you are proposing will work. If you are working on a proof of concept or a pilot project you may need to devote two one hours calls a week plus detailed emails to support them. They will read and "cross-examine" your e-mails, interspersing comments and questions throughout their reply.
Managers want a higher level view that focuses on timelines, status, and action items. They may take part in a one hour call for the first ten to fifteen minutes. They may read the first two paragraphs of an email.
Executives are very busy and want the bottom line up front. It's rare you will have their attention for more than 10-15 minutes unless there is a significant problem. If the first 2-3 sentences don't explain the situation and what you are asking them for, it's unlikely the rest will be read. If you get an email from them it's unlikely to be longer than two sentences, replies to your emails may only be a few words.
 "Jeff Allison and Sean Murphy helped us define the objectives for three types of communication channels with each client: technology, management, and executive. We now communicate more effectively with our clients tailoring the content and questions during meetings and emails to different audiences. It resulted in much faster progress in delivering pilot projects, full tool implementations as well as expanding accounts. For example, the techies will only get frustrated if you ask them about their department roadmaps or their next year budgets, and the executive might feel like you are wasting her time if you cover too many technical details during a call she has joined. A must-have for a successful implementation of this approach is collecting information about the organizational structure of your clients. For every client we draw a reporting chain diagram where we visualize how we can best communicate with the company and deliver more value to them by keeping the communication channels efficient."
Wojciech Bulaty, CEO at Traffic Parrot
SKMurphy take: The core team members at Traffic Parrot were all successful as senior technical contributors in multiple large firms. They worked on long term assignments embedded inside of large organizations and were successful at navigating the white space in the organization to deliver technical projects. When they started to engage as Traffic Parrot with large firms it took a while to realize that what they had naturally picked up about the organization by being embedded they now had to devote explicit discovery efforts toward early in the sales engagement and keep everyone on the team on the same page, since none of them were embedded.
More About Traffic Parrot
Traffic Parrot is an API mocking and service virtualization tool. It simulates APIs and services so that you can test your microservices without having to worry about test data set up or environment availability. Traffic Parrot is specifically designed to maximize developer and tester productivity when working in autonomous or cross-functional product teams. Small footprint (less than 50MB of disk space), lightweight but powerful, supporting HTTP, JMS, IBM MQ, File transfers, gRPC and more.
"Traffic Parrot is specifically designed to maximize the productivity of developers writing automated tests and to enable them to mock out microservices for local development. Their lightweight platform with gRPC support was a good fit for our Docker and Go-based development environment. They provided strong support during the POC and continue to track the rapid evolution of gRPC, acting as an effective extension to our team."
Brian Romanko, VP Engineering at Bestow
Related Blog Posts