Recently we spoke on a variety of proven marketing techniques for growing your business. Sean Murphy and Theresa Shafer talked about building awareness and getting exposure to attract and sell your expertise, services, and products.
They explored the techniques for those times when you have less billable work, and also the techniques for when there is more client work and less time to work on avoiding a future dry spell. 
Lead Generation for Consultants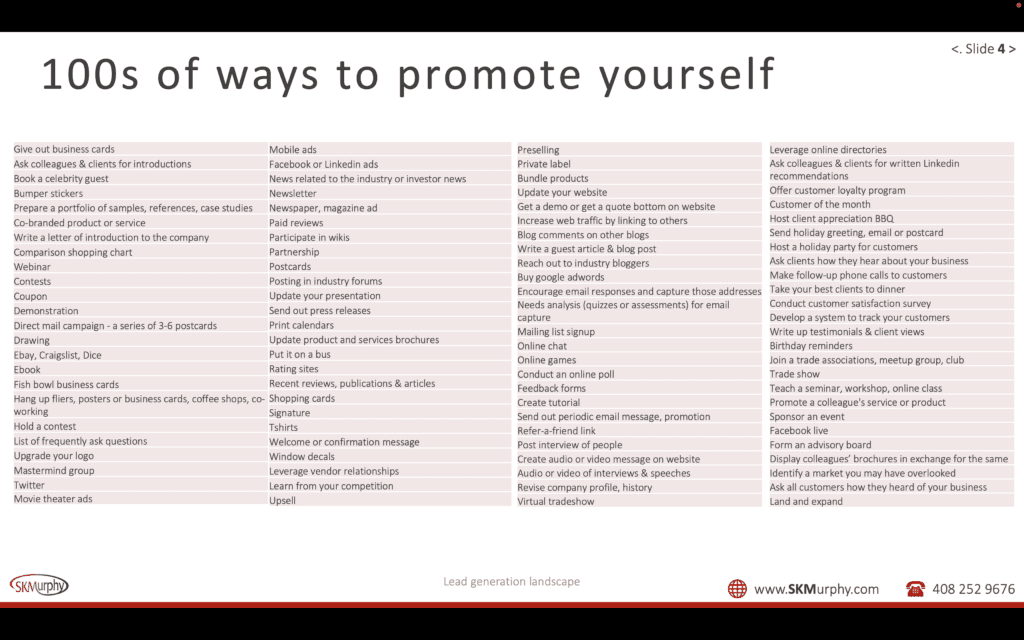 Sean talked about 100 ways you can generation leads. These he grouped these lead generation ideas for consultants into four key areas:
Speaking – webinars, small groups, large groups, conferences, …
Writing – blogging, newsletters, articles, …
What other people say about you – referrals, testimonials, case studies, …
Getting found when and where buyers are looking: adwords, trade shows, SEO/SEM, …
Q: How do you qualify prospects?
In this short video, Sean expands on the classic BANT method to qualify prospects.
Q: I find myself writing a number of proposals but very few seem to close. Do you have any suggestions for how to increase my win rate?
In this short video, Sean suggest doing the proposal interactively either with the person in their office or on zoom with a shared Google doc or a shared whiteboard. This  gets the person to  invest time and effort in defining what they want and what they need.
Q: Would you recommend cold calling? 
We don't recommend cold calling. Instead we recommend content marketing designed to attract high-quality inquiries.
Closing Chat from the Attendees:
Carl: Great summary of well known and good techniques.
Susie: I liked the idea of quarterly newsletters instead of feeling the need to commit to monthly
Ashish: I like bit about proposals – I will remember.
Priyanka: so many good suggestions.
Anat: I really am digesting and thinking. Thank you!
Susie: Thank you!!
Robin: I did Sean's program a few years ago and it was great!! VERY useful!
PL: Thank you Sean and Theresa.
Cedrick: Thank you Sean and Theresa!!
Robin: Sean and Theresa have made us money :-)
Carl: I'd like the list of 100 techniques.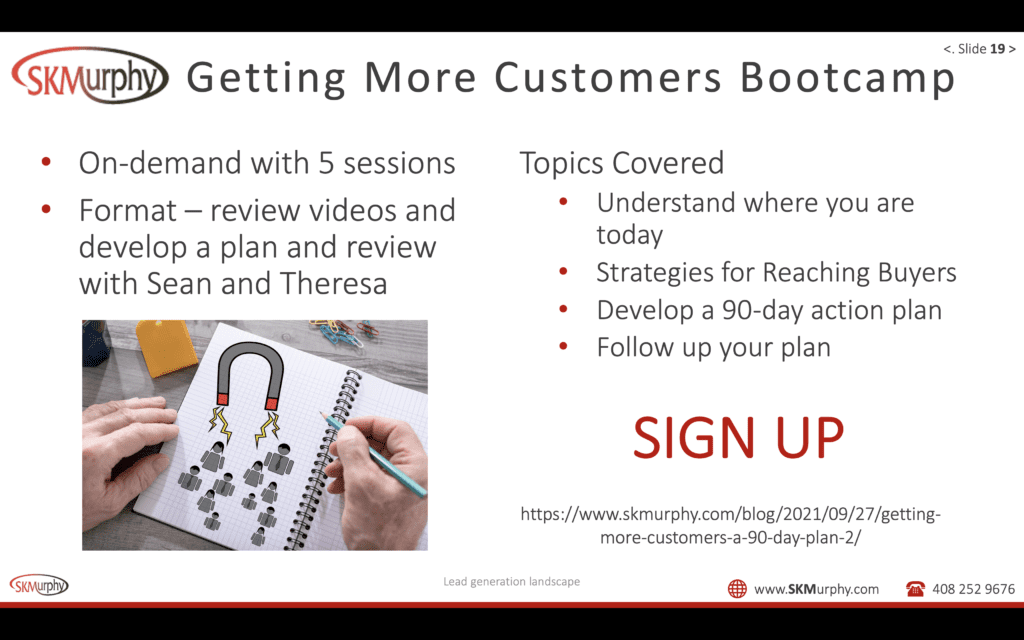 Sign up for our On-demand Getting More Customers Bootcamp
About Sean Murphy and Theresa Shafer
Sean Murphy and Theresa Shafer help clients generate leads and close deals. SKMurphy, Inc. (www.skmurphy.com), helps early-stage startups and consultants with content strategy and relationship-based link building to generate leads and sell their products and services. They help teams build a scalable, repeatable sales process. Clients have offerings in electronic design, artificial intelligence, web-enabled collaboration, proteomics, text analytics, legal services automation, and medical services workflow. For more information, visit www.skmurphy.com
SKMurphy was founded in 2003 to help experts and teams of experts generate leads and close deals. They support consulting practices, software firms, and hardware firms in the United States, Canada, Europe, and Australia.