Model creation enables effect business decisions: models enable "what-if" analysis for the rapid exploration of a wide range of options.
Sean Murphy: Mastering the Art of Model Creation for Effective Business Decision-Making
We make about 35000 decisions a day. Creating the right decision-making-model can steer your organization or team in the right direction. Sean Murphy has mastered the art of model creation for effective business decision-making.
"Sean Murphy is very good at creating models: thought models and analytic models.

I have used models to open up new insights and understanding of my business situation, allowing me to make better decisions and solve problems."

Tino Go, Founder of Baru
SKMurphy's take: Many entrepreneurs we support have scientific and engineering backgrounds and tend to be suspicious of sales and marketing as soft, fuzzy, or bullshit. A key element of how we collaborate with technical entrepreneurs is to include simple mathematical models that allow them to explore critical relationships between decisions they can make, variables they can influence, and the outcomes they want to achieve.
More about Baru
Baru lets you customize your furniture to fit into your space and your lifestyle. All products are locally manufactured with customer favorites like sit and stand desks, dressing consoles and media centers.
"I live in Manhattan and my apartment space is limited. I was looking for furniture in specific measurements but couldn't find anything I liked in the right size. Baru was a perfect solution! It let me change the size to exactly what I needed. Highly recommend it!"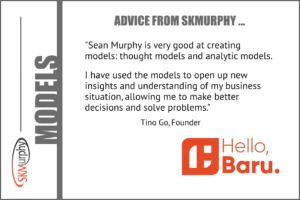 Related Content on Model Creation
 SKMurphy is a Trusted Business Advisor with Analytical Approach describes how Sean Murphy, the founder of SKMurphy, uses his analytical and modeling skills to provide to entrepreneurs with technical backgrounds. His and decisions. and in . "SKMurphy has been a trusted business advisor for the past five years. The most valuable role they play is as a sounding board for strategy and next steps. They help me frame decisions and actions based on great depth ­ of business experience. Sean's analytical and conceptual approach allows me to organize my thinking and to plan several steps ahead in the complex negotiations we have to navigate."