David Butler characterizes Sean Murphy of SKMurphy, Inc. as "a trusted business advisor with an analytical and conceptual approach that allows me to organize my thinking and plan several steps ahead."
SKMurphy is a Trusted Business Advisor with Analytical Approach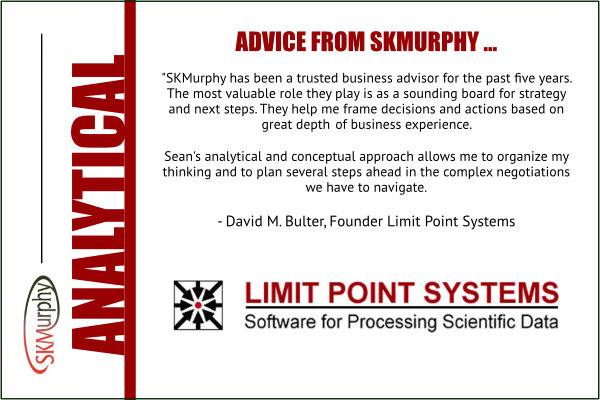 "My firm, Limit Point Systems, Inc., has developed and patented some data management technology for "scientific computing" applications. (Google "sheaf data model"). We've bootstrapped the development of the technology over the last 15 years.

SKMurphy has been a trusted business advisor for the past five years. The most valuable role they play is as a sounding board for strategy and next steps. They help me frame decisions and actions based on great depth ­ of business experience. Sean's analytical and conceptual approach allows me to organize my thinking and to plan several steps ahead in the complex negotiations we have to navigate."
Dr. David M. Butler, Ph.D., Founder of Limit Point Systems
SKMurphy Take: We work with a number of scientists and engineers and tend to use models and analogies from mechanical and electrical systems as well as physics and biology. Our perspective is that while successful sales and marketing efforts require empathy and the ability to listen, they are also a matter of systems analysis and project management. So we rely on conceptual models that are familiar to engineers and scientists. Limit Point Systems saw considerable interest from oil and gas teams doing subsurface modeling, we assisted them with deals in the 250K to 500K range and also in navigating how to offer an open source version to enlist academic support in parallel with a commercial off-the-shelf software licensing model.
More About Limit Point Systems
Limit Point Systems (http://www.limitpoint.com) specializes in integrating scientific computing into industrial and enterprise work flows. We excel in delivering a broad array of advanced software solutions to help manage observational, experimental, and simulation data associated with scientific and mathematical analysis of products and processes, especially those with complex spatial structure and discontinuous properties. Limit Point Systems couples scientific training with over 25 years of experience in non-relational database applications and data representations useful for interpretation, analysis, and visualization of scientific and other technical data.
New Open Source, Community Edition of the SheafSystem™ Library Released by Limit Point Systems
Related Blog Posts