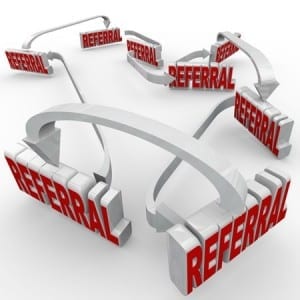 Building a strong referral base is critical to every entrepreneur. Three things you can do today to build referrals:
Make a list of 30 people you have had a shared success with, go back to school, first job, etc.
Contact those people tell them:

What you have been up to
Here's what I am looking for, please refer me to people if they are looking for my services.
Please let me know what you have been up to and call if there is anything I can do to help.

Write 2 testimonials for people you've had a shared success with in LinkedIn
"Tell everyone what you want to do and someone will want to help you do it."
W. Clement Stone
Related Blog Posts
Nancy Roebke offers details on these ten suggestions:
Ask for them
Reciprocate them: send business to those who help your business
Reward them: from thank you letters to discounts to fees
Give them to other qualified businesses
Use testimonials in your literature and advertising.
Give out more business cards.
Community service.
Sponsor a team or event.
Be helpful.
Join a networking group.