In 1995 I did some work for one of the early web startups in Palo Alto. They had delivered a number of database driven websites using a proprietary software technology that they had developed, and had sold the technology to several firms. But they had a problem collecting unpaid bills: they had not been paid for a number of the technology sales and they were running out of cash.
I asked the CEO, "What do they say when you call them?"
He said, "We haven't called them."
I said, "Do you have their phone numbers? Do you mind if I try calling them?"
So I called them and asked "I am calling to check on your use of the XYZ web generator. Are you happy with the product?"
If they said no I would try and determine if it was something we could address. If they said yes I would say "according to our records we have not received your payment yet, can you please put a check for the $5,000 you owe us for the software in the mail today?"
Most of the firms using the product paid.
The Check Is Not In The Mail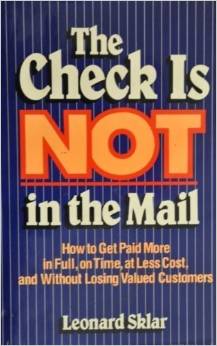 I was reminded of this reading  Len Sklar's chapter on "Debt recovery – Do You Hate To Ask For Your Money?" in "The Check is Not in the Mail"
Many business people not only feel uncomfortable about asking for the money they have so deservedly earned from providing their product or service, they handle their discomfort by simply not getting on the phone and asking or else by doing it clumsily – with unacceptable results.  And, asking in person can be even more discomfiting.
Len's book "The Check Is Not In the Mail" covers credit policies and collections and is required reading for bootstrappers. He came to our March 7 breakfast and facilitated some very well received interactive exercises: several bootstrappers in turn took the role of a delinquent customer and Len demonstrated a variety of low key techniques to move beyond a current deadlock.
See also "Len Sklar: Be Clear About Payment Terms and Consequences" [Video]