"Nuts, Bolts, and Jolts" by Richard Moran offers a well organized collection of business advice organized as bullet-length prescriptions.
Nuts, Bolts and Jolts by Richard Moran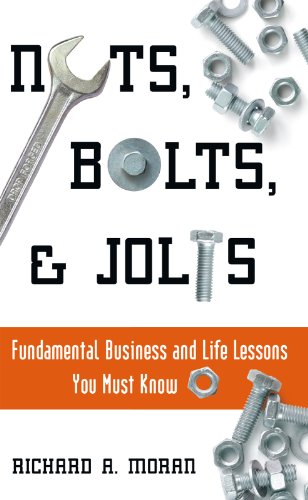 Between 1993 and 1998 Richard A. Moran (@RichMoran / website: http://richardmoran.com/) authored four books of business advice–similar in tone and size to H. Jackson Brown's 1991 "Life's Little Instruction Book"–that were collections between three and four hundred bullet points of pithy advice:
Moran has put all four books in a blender and created a synthesis with "Nuts, Bolts,and Jolts: Fundamental Business Lessons You Must Know," retaining most of the bullets from all four books but organizing them into chapters with a couple of pages of expository perspective to frame and counterpoint their epigrammatic style.
What follows is my selection of his seven best observations for entrepreneurs.
"Easy projects, easy sales, or hot new business opportunities
are like children's soccer; everyone clusters around the ball."
As a startup you are better served to be far from the crowd at least initially so that you can learn in (and own a niche) of your own.
"Learn the difference between running a meeting and leading a group."
Lead (and sell) with your ears. Focus on objectives and results, not methods and facilitation. Even when it's your initiative, if you are the leader you are better served to have someone else present it (after appropriate shared rehearsal) so that you can better gauge reactions and be more alert to feedback.
"Ask for input only if you plan to do something with it or about it."
This is especially true in customer service and product marketing roles (and any management role). Don't raise expectations that you will take action on the information you ask for if you have no plans (or ability or resources) to follow through.
"Being good is important. Being trusted is essential."
Trust is essential to any early relationship that a startup forms. It can be especially tempting with prospects (and even customers) to violate their expectations and unilaterally amend an agreement (e.g. when features are going to be ready or a particular bug will be fixed) to give them something "better." The challenge, as Gerald Weinberg observed in "Secrets of Consulting" is that "People don't tell you when they stop trusting you."
"When told you don't understand the big picture, ask to see that big picture."
I think the opposite is even more true: don't tell someone that they don't understand the Big Picture, offer them a rich enough context for your advice or direction so that they gain a better appreciation for your perspective. Bob Lewis offers a similar prescription in his 3/11/2002 Tip (registration required) on "Context. Make sure you provide lots of information about it. Whether an employee is writing a program, designing a network, or deciding whether a course of action is worthwhile, it's the context that determines the answer. So don't let employees just 'do their job.' Their job, after all, ought to be doing what makes the most sense, which means that they need to understand how it fits into the bigger picture."
"Technology eventually evens out. Compete on service and talented people."
A technology advantage can allow you to seize a niche, but for staying power you need excellent service and a commitment to hiring folks with the appropriate talents and helping them to continue to develop them.
"Great ideas and solutions to problems often occur right before you fall asleep at night. Get up and write them down or they will be lost in the morning."
This is excellent advice. I carry 3×5 cards during the day and keep a pen and pad of paper on my nightstand. More than once it's happened that I have been wrestling with challenging project or problem and either awakened in the middle of the night or a few minutes before the morning alarm went off with a solution clear in my mind. It's amazing how fast an insight or solution can dissipate if you don't get at least a fragment of it written down.
Moran has some great advice for startup CEO's on how to prepare for and run effective board meetings in an April 16, 2007 article "Elephants in the Boardroom" on SandHill.com.
Related Blog Posts