The history of Silicon Valley is properly anchored by the founding of Federal Telegraph in 1909 by Cyril Elwell, marked by California Historical Marker 836.
Silicon Valley History You May Not Know
Michael Malone, in a Dec-2001 article for Forbes ASAP entitled "Second Sight" (reprinted in his book "The Valley of Heart's Delight") offers some insights on the origin of Silicon Valley:
The Valley had been born of war. Military contracts had built Hewlett-Packard and Varian; the nuclear age had given birth to the Valley's largest employer, Lockheed Missiles and Space. So too had defense order underwritten the success of the Valley's first modern company, Fairchild Semiconductor. All had grown rich building successive generations of weaponry; they would grow richer yet.
Harry Truman once observed "the only surprises are the history you don't know." Malone offers an eye opening perspective on some history that is  "hidden in plain sight" of the origins of Silicon Valley. Radar, radio, and countermeasures–both mechanical and electronic–underwent a rapid evolution to become what was called "electronic warfare." Starting with World War II efforts and continuing with the Cold War, military R&D funded a considerable amount of engineering effort in Universities and private firms in Silicon Valley.
Steve Blank on Silicon Valley's Secret History
Video of  talk given at Google Dec-18-2007 is available here http://www.youtube.com/watch?v=hFSPHfZQpIQ
The most interesting aspect of the talk for me was a vision of "systems fighting systems" in an accelerated co-evolution. Eric Ries has a copy of Steve Blank's slides up at "Where Did Silicon Valley Come From?" (Also at https://www.slideshare.net/startuplessonslearned/steve-blanks-secret-history-of-silicon-valley-talk-at-computer-history-museum-112008-presentation) Slide 37 has the "systems fighting systems" picture where it's clear that a bombing raid was not a single homogeneous flock of bombers but included not only escort fighters but a number of different kinds of electronic warfare aircraft, with many distinct radio/radar detection and countermeasures roles.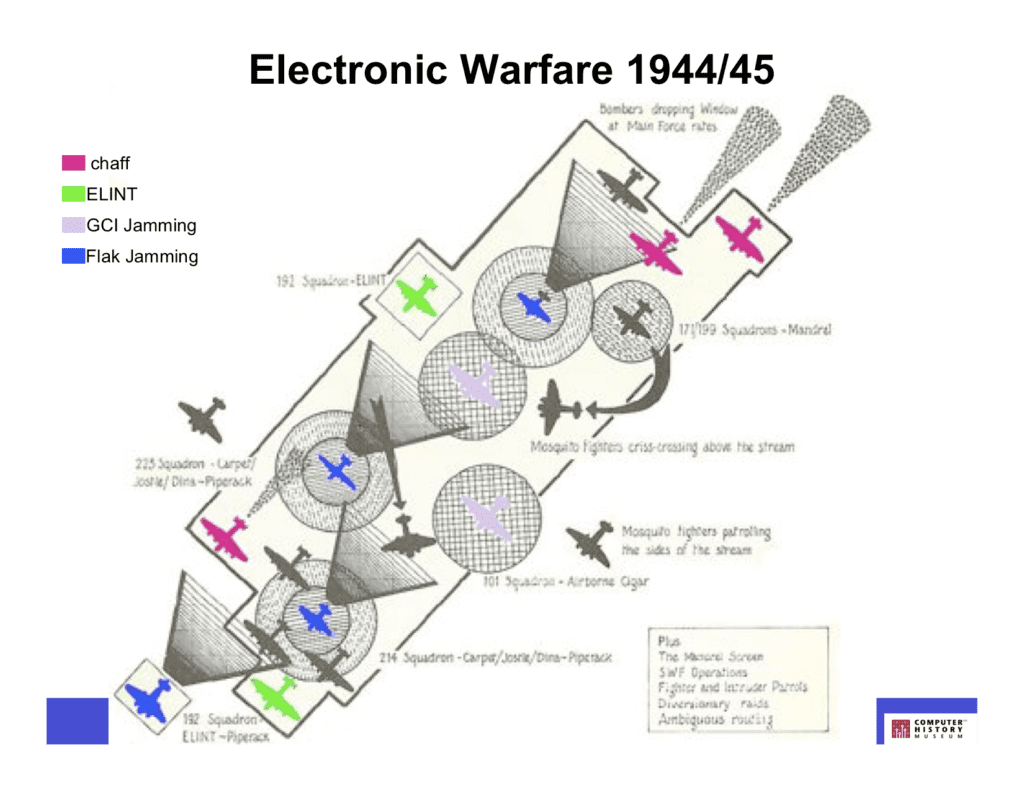 Silicon Valley is Over a Hundred Years Old
Blank anchors the birth of Silicon Valley with Hewlett Packard but I am guided by Timothy J. Sturgeon's  "How Silicon Valley Came to Be" and believe that Federal Telegraph is a better origin point.
The fact that the San Francisco Bay Area's electronics industry began close to the turn of the Twentieth  Century should lay to rest the notion that industrialization and urbanization on the scale of Silicon Valley can be quickly induced in other areas. Silicon Valley is nearly 100 years old. It grew out of a historically and geographically specific context that cannot be  recreated. The lesson for planners and economic developers is to focus on long-term, not short-term developmental trajectories. Silicon Valley was the fastest growing region in the United States during the late 1970s and early 1980s; but that growth came out of a place, not a technology. Silicon Valley's development is intimately entwined with the long history of industrialization and innovation in the larger San Francisco Bay Area.
From California Historical Landmarks for Santa Clara note that Federal Telegraph predates HP by more than a quarter of a century and all of the early WWII era technology entrepreneurs had a common interest in radio.
NO. 836 PIONEER ELECTRONICS RESEARCH LABORATORY – This is the original site of the laboratory and factory of Federal Telegraph Company, founded in 1909 by Cyril F. Elwell. Here, Dr. Lee de Forest, inventor of the three-element radio vacuum tube, devised the first vacuum tube amplifier and oscillator in 1911-13. Worldwide developments based on this research led to modern radio communication, television, and the electronics age. Location: In sidewalk, SE corner of Channing Ave and Emerson St, Palo Alto
NO. 976 BIRTHPLACE OF SILICON VALLEY – This garage is the birthplace of the world's first high-technology region, "Silicon Valley." The idea for such a region originated with Dr. Frederick Terman, a Stanford University professor who encouraged his students to start up their own electronics companies in the area instead of joining established firms in the East. The first two students to follow his advice were William R. Hewlett and David Packard, who in 1938 began developing their first product, an audio oscillator, in this garage.
Location: 367 Addison Ave, Palo Alto
Related Blog Posts
PostScript: How Arc Alley Became Silicon Valley
Title of a talk given at Parc Nov-6-2003 and at Berkeley Sep-15-2003 by Prof. Thomas Lee of Stanford University
Most technology histories of this region mark "time zero" as the birth of Hewlett-Packard on 1 January 1939. Then Shockley arrives in 1955. Three years later, the IC gets invented, and the history of Silicon Valley unfolds in earnest. Stanford and Berkeley are somehow involved in Important Ways, orchards disappear, spinoffs beget spinoffs, and boom and bust cycles of ever-increasing amplitude appear as constant companions.

What's less well known are the many other important tech milestones that precede "time zero" of the standard story:

First ship-to-shore wireless communications in the U.S. (from the Cliff House in San Francisco, in 1899);
First regularly scheduled radio broadcasts (by Stanford dropout "Doc" Herrold), from San Jose;
First ground-to-aircraft radio, demonstrated at the Tanforan racetrack in San Bruno;
First VC-funded electronics startup (Federal Telegraph, founded by Stanford graduate Cyril Elwell, with funding from Stanford president David Starr Jordan and others; it counted among its employees future "Father of Silicon Valley" Fred Terman, and first Stanford EE PhD and future Berkeley EE dept. chair Leonard Fuller);
Discovery of electronic amplification by Lee de Forest at Federal Telegraph in Palo Alto;
First megawatt-level continuous wave transmitters (using arc technology, by Federal Telegraph);
First demonstration of electronic television, by Philo Farnsworth at his San Francisco lab on Green Street.

The talk will begin with a quiz ("Who *really* invented radio?") to prime the pump, and end with a light-speed overview of developments after Farnsworth, up to the founding of Fairchild.

Description for "How Arc Alley Become Silicon Valley" by Prof. Thomas Lee, Stanford University
Related "Passion, Innovation, Entrepreneurship, and Wireless Radio: the Secret History of the Start of Silicon Valley" [PDF] by Roger Melen