Earning and keeping your customers' trust is essential to your success as a startup. Gerald Weinberg's "Secrets of Consulting" offers "11 Laws of Trust" as a guideline for establishing and maintaining successful business relationships.
Keeping Your Customers' Trust
Consulting is the art of influencing people at their request. People want some sort of change—or fear some sort of change—so they seek consulting, in one form or another.
Gerald Weinberg in "Secrets of Consulting"
I think B2B software is often purchased by firms hoping to achieve–or avoid–some sort of change. Like consulting, software is the promise of an ongoing business relationship.  The two essentials in a mutually satisfactory business relationship are trust and an exchange of value.
Gerald Weinberg's 11 Laws of Trust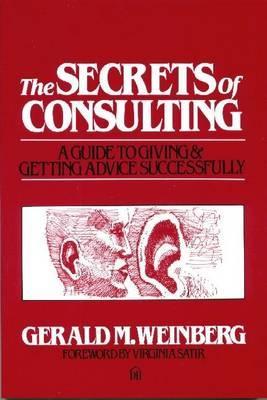 Gerald Weinberg offers 11 "Laws of Trust" in chapter 13 of "Secrets of Consulting" that I believe are also very applicable to software startups trying to establish and maintain successful business relationships with their prospects and customers. I have added my own notes as bullets after each Law where I felt I could add some ways to apply them more directly to software startups.
Nobody but you cares about the reason you let another person down.

It's tempting to spend time on excuses that would be better spent on anticipating and preventing poor performance and unsatisfactory outcomes.
See also "Conserving Trust In a Downturn"

Trust takes years to win, moments to lose.

If you do something do make a customer doubt your firm's integrity or commitment to shared success  it's often an unrecoverable error.

People don't tell you when they stop trusting you.

You have to listen for what's not said.
If your customers are not asking you for help, it's possible that you have a rock solid product. It's more likely that they no longer have any confidence in your ability to help them.
It's also critical to establish and maintain trust among founders, see "Three Tips For Minimizing Misunderstandings Among Co-Founders"

The trick of earning trust is to avoid all tricks.
People are never liars—in their own eyes.

Weinberg elaborates: Always believe that your prospects and customers are telling the truth—as they see it, and as they think it would help me to hear it.
Especially in the beginning of a business relationship it takes time to earn trust; prospects in particular are not going to be entirely candid until they have confidence in your ability to help them.

Always trust your client—and cut the cards.

Always be collecting data. Always be collecting multiple perspectives.

Never be dishonest, even if the client requests it.

It's better to be viewed as uncooperative than a cheat. And once you establish a willingness to bend or break rules in the customer's mind you will get asked to do it again.

Never promise anything you are not sure you can deliver.

Especially with early customers you are asking them to take a risk in working with you, only make commitments you are confident of keeping. This often argues for a phased approach or contingent pricing so that you are only paid after you have delivered a result.
See also "Honesty in Negotiations"

Always keep your promise.

This is true even for beta customers (or those that have purchased your early "minimum viable product"). Too often beta or MVP is used as an excuse for non-performance:  "We told you it was beta software." Don't be those guys.
See also "Experiments Vs. Commitments"

Get it in writing, but depend on trust.

The primary reason to put things in plain English is to make sure that both sides clearly understand their mutual expectations and requirements, which will help to prevent a lot of misunderstandings.
Keeping your business operations clear to  your employees employees also fosters trust, and is an important component of maintaining your customers' trust with you startup where anyone can be customer facing as the situation dictates.  See also "The Business is Everyone's Business."

Do unto others as you would have them do unto you.
"People usually feel weak and vulnerable when they retain a consultant. Small wonder that the consultants they retain are first and foremost the ones they feel will not hurt them. Consultants who are looking for work should think less about price and learn more about trust."
Gerald Weinberg on "Price and Trust" in "Secrets of Consulting"
I think this also applies to software startups. In our "Engineering Your Sales" workshop we stress that your prospect won't act on your offer until they both understand your product and believe in your benefits, and that requires establishing trust.
Weinberg's wrote Secrets in 1985 and I have purchased a half a dozen copies since it first came out, buying new ones when I wanted to re-read it and could not remember who I had lent it to last. It's a great book.  It's now out as an E-book on Smashwords and well worth the $9.95. The print version has a nicer layout but all of the content except for his final list of rules (the last three pages) is in the E-Book. And you can't grep dead trees so in some ways it's more readable.