We are looking for new members for our on-line Mastermind Group for Intrapreneurs and Change Agents.
On-Line Mastermind Group for Intrapreneurs and Change Agents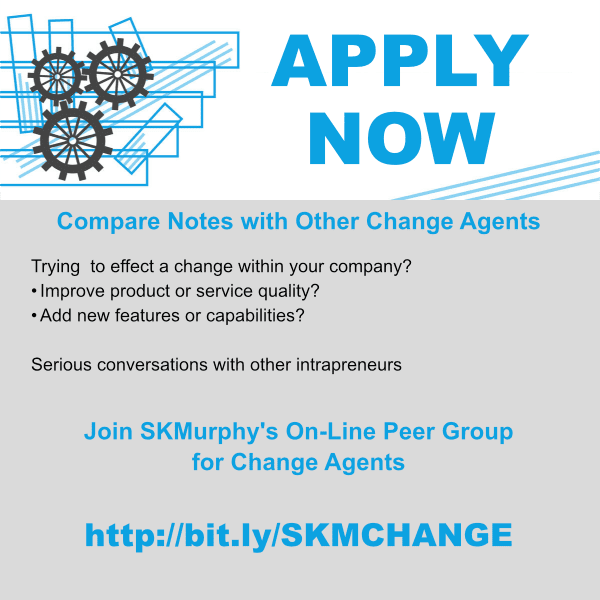 If you are trying to improve the quality or capabilities of products or services that your company offers, this on-line Mastermind group can help. Take part in serious conversations with other change agents where you can compare notes and get other perspectives on challenges you face.
Join SKMurphy On-Line Mastermind for Intrapreneurs and Change Agents
When: Dec 5 & 19 10am-Noon PST / 1-3pm EST
Cost: $300 for two working sessions a month
Apply: http://bit.ly/SKMCHANGE
You don't have to be sponsored by your firm or win an innovation contest to take part. If you are committed to helping your company make a process change that will enable improved products or services then you are welcome to take part.
Special Topic in December: "Lessons from Loonshots for Intrapeneuers"
In addition to our regular roundtable discussion, our December topic is lessons from Safia Bahcall's "Loonshots" for intrapreneurs. Although the book is written for senior managers and executives who want to foster more innovation in their company, Bahcall outlines a number of principles that can be used to inform tactics you can employ immediately to increase your effectiveness as a change agent.
Related Blog Posts