This is a ten minute interview (audio and edited transcript) I did with with Patricia Watkins on July 24-2020. Patrica is an experienced salesperson and sales executive who's been helping companies drive sales for more than two decades. We discuss some of the challenges you need to manage during a major economic disruption. We look back at 9-11 and dotcom crash of 2001, the mortgage bubble of 2008-9, and the current Covid-19 disruption.  Patricia outlines how upsell, cross-sell, and referral sales strategies can help sales efforts in a downturn.
Interview with Patricia Watkins
on Managing Sales In a Downturn

Download: https://traffic.libsyn.com/secure/skmurphy/PattyWatkins200724.m4a
This is an edited transcript of an interview I did with with Patricia Watkins on July 24-2020. Patrica is an experienced salesperson and sales executive who's been helping companies drive sales for more than two decades. She has a new book coming out, "Land and Expand: Six Simple Strategies to Grow your Company's Top and Bottom Line." We discuss some of the challenges you need to manage during a major economic disruption.
9-11 and the Dotcom Crash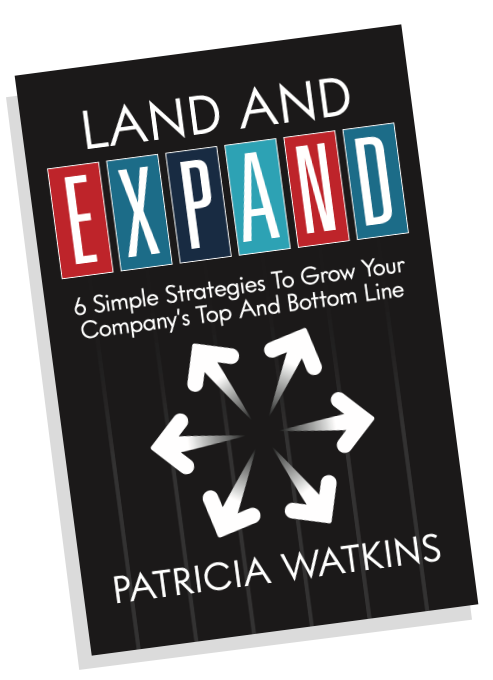 Sean Murphy: Patricia, there have been several significant disruptions impacting sales over the last two decades. The oldest is the 2001 dotcom crash that combined with 9-11 to create a significant recession. . Can you talk a little bit about where you were and what you did to manage that?
Patricia Watkins: I was working for a security company, and we had software that helped protect the company's revenue by restricting piracy. It was very, very timely for us because people were worried about terrorists. When you have an economic downturn like that, customers put orders on hold. Sales are much slower; you need to make sure that you show compassion to your customers. It's not all business when things are that dramatic. People are worried about their families, their friends, and their colleagues. We became very focused on our customers' needs and requirements, and how we could be their partner to help them come out of the downturn.
Great Recession of 2008
Sean: I've noticed in calls that I've been on recently that we spend more time on "How are you doing? How is it going? What's it like where you are?" I think the second significant event in the last two decades was the financial crisis of 2008. Can you talk about where you were then and what you did to sustain sales?
Patricia: In 2008, I was at HP running a global sales organization that sold immersive telepresence–it was Zoom on steroids. We configured rooms that were identical around the world. People in different rooms would feel like they were all in the same conference room. That turned out to be very relevant and timely because customers were concerned about reducing travel costs and the need for travel. We discovered that–because they did not need to take a trip for a meeting–they could meet online and collaborate faster. There was another benefit. We not only cut their travel costs; we were helping them get their products to market faster. What you need to do in any calamity, in any economic downturn, is care about your customers and find out what their needs are. Then you can help them to move forward and recover.
Today's Covid-19 Economic Disruption
Sean: We find ourselves today in a pandemic. It feels very different from 2001 or 2008. What would you recommend that sales teams do today–not just to survive but to thrive?
Patricia: Today is different from many of the other economic downturns. It's hit the entire world at once: people are sheltering in place and are not traveling. As you mentioned earlier, people are asking each other, "How are you? How is your family." You need to be there for your customer; you need to take care of your customers. Your loyal customers are the ones who are buying right now. They're the ones you already have the relationships with. Deliver exceptional customer service and customer experience.
Sean: I may think I'm delivering exceptional customer service for others: are there some tests I could apply to make sure?
Patricia: That's a great point. There are studies out there that companies think they're delivering exceptional customer service 80% of the time. But in the eyes of the customer, it's more like eight percent of the time. It really can be that lopsided. The key is to ask the customer. It can be a formal survey, or it can be informal conversations where you talk about what is working and what is not, and how you can better serve them. Show them that you care and are committed to making a difference. Listen to what they have to say and act on it.
Getting Started with Land and Expand Sales Strategies: Upsell and Cross-sell
Sean: That's very clear: ask for what they need, listen, then act on what they tell you. You've done a lot of research on land and expand. Your new book is devoted to it. What's the best way for sales teams to get started with this approach?
Patricia: The book covers six simple strategies you can execute immediately. Probably the best one to start with is upsell and cross-sell, which enables expansion revenue with your existing customers.
Sean: How do you define upsell? How do you look for upsell opportunities?
Patricia: For upsell, let's say you're a software company and you have bronze, silver and gold versions, each offers more value for a higher price. An upsell would suggest a higher-priced version where it's a better fit with their needs. A cross-sell would suggest another product that complements what they have already licensed and is a fit with their needs. The key with both upsell and cross-sell is that you're delivering more value to the customer, and you're achieving more revenue for yourself.
Sean: How do I evaluate my customers in a structured fashion to determine where I could uncover cross-sell or upsell opportunities?
Patricia: Without some discipline, I have seen people go adrift. The key place to start in my experience is with a white space analysis to develop a gap plan.
Take a sheet of paper and write down the services that you offer in a column on the left. To start off with this exercise list your top five deliverables, then look at your customers. For example, your top customer is in Santa Clara but they have offices in San Francisco, Austin, and Munich. List who has licensed which products and then take a look at who has not purchased it yet. This will suggest where your upsell and cross-sell opportunities might be. But the most important thing to determine is if there is a need for that solution at that location. You will need to do some research by talking to customers in different groups and locations. Your goal is to find out what you have that will help them solve their business problems. The worst thing you can do is throw everything in your arsenal at the customer and see what sticks. So a whitespace analysis will help you target your sales effort where they are most likely to succeed.
Sean: What are some mistakes you see sales teams make when they first start to upsell and cross-sell?
Patricia: Well, as I mentioned, the worst thing is throwing things at the wall to see what sticks. The key is that you need to do your research. Customers want to know that you've looked at their website, read their annual report, and understand their business. You need to communicate an understanding of the trends at work in their industry. The more you know about their business, the better you can suggest products that fit their needs, and the more value you can deliver.
Sean: So we've talked about upselling and cross-selling fueled by a white space analysis. What is the next strategy you would recommend for sales teams trying to cope with a downturn?
Referral Selling
Patricia: You know, one that is super popular, and it's probably one of the most misunderstood, is referral selling. Referral selling will help you not only sell internally and expand your footprint in an existing account. It also accounts for 65% of overall net new business.
Sean: This assumes that you've got happy customers, and you're now trying to leverage their satisfaction with what you've delivered into introductions to other parts of their firm or other firms.
Patricia: Yes, with a referral sell, you've got to have a happy customer. No one is going to refer you if they're not satisfied. And it's vital that you ask for a referral at an opportune time. You don't want to ask everybody, "Hey, will you do a referral for me?" Because that is how salespeople fail at asking for referrals.
Sean: When is an opportune time?
Patricia: When they tell you they are happy with your service. For example, a customer gives you a compliment and says, "Sean, you're doing a phenomenal job for us. I really appreciate what you're doing." You should thank them and ask for a referral. For example, you could say, "Thank you for the compliment. Do you know of other divisions or departments in your company that might be interested in what I have to offer?" It's all about the timing.
Sean: If the customer says, "Yes," what do I do next?. It seems like a lot of referrals die the death of good intentions.
Patricia: Research has shown that 91% of customers say yes, but many don't follow through. When they say yes, it may be out of politeness or because they like you, but they have a day job. So they get busy and don't follow through. Recognizing that reality, here is what I suggest you do when you ask, "would you be willing to give me a referral?" Make it easy for them. Ask, "would it help if I sent you a draft version of the referral email?" Most of the time, they say, "Yes, that would be a big help." So I list a few key products or services and some of the compliments they have paid me (or our product). When they get my email, they feel a little more obligated to follow through because I have done my part of the bargain: I have delivered excellent support, and I have given them a draft that takes most of the pain of writing an email away. Writing a good draft improves the probability of getting a referral significantly. They intended to give you a referral, but they are busy. This approach lowers the amount of effort they need to make.
Her New Land and Expand Book
Sean: Interesting. I assume that this is included in your "Land and Expand" book. When is that coming out?
Patricia: That book will be out in fall of 2020. So just a couple of months away. Visit http://www.land-and-expand.com/ and you can learn more and register for some special promotions we will run when the book comes out.
Sean: Patricia, it's been a pleasure chatting with you. Any other remarks you want to make before we wrap?
Patricia: During these awkward times the most important thing is to focus on your customers. Deliver exceptional customer service and ask your customers what's working, what's not and what can we do better to serve you. It'll go a long way. Delighted customers really do buy more.
About Patrica Watkins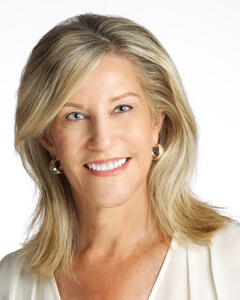 Patricia Watkins has more than 20 years of leadership experience in the high technology sector, with a strong track record of driving profitable revenue growth, customer acquisition and retention. A natural leader and motivator, Patricia has led teams starting at $0 million to delivering in excess of $800 million.
Her extensive experience spans leadership positions in global sales, channels, business development, alliances, marketing and professional services. Patricia has focused her professional career in Software and Services focused on Enterprise and SMB markets, in complex, solution selling environments. Patricia has served in global, national and regional roles in private and public companies as SVP, VP and other executive positions in companies including HP, Avaya, Internap, Teradata, AT&T, and NCR, as well as a number of start-ups in Silicon Valley. She has a proven track record of building solid foundations and teams that deliver outstanding results.
Patricia received a BBA from The University of Texas with Honors, and an MBA from Santa Clara University (Beta Gamma Sigma, International Business Honors Society)
Related Blog Posts
Image Credit (c) Patrica Watkins, used with permission.