There is a natural tendency for technical founders to base their pricing model on an engineering oriented value proposition. Looking at the full impact on business can enable higher prices, which in turn means more profit and faster growth. Wojciech Bulaty of Traffic Parrot describes the mental shift Sean Murphy helped him make to transition product pricing from $20/month to $10,000/year for the same software license.
Your Pricing Model is a Key Lever for Profitability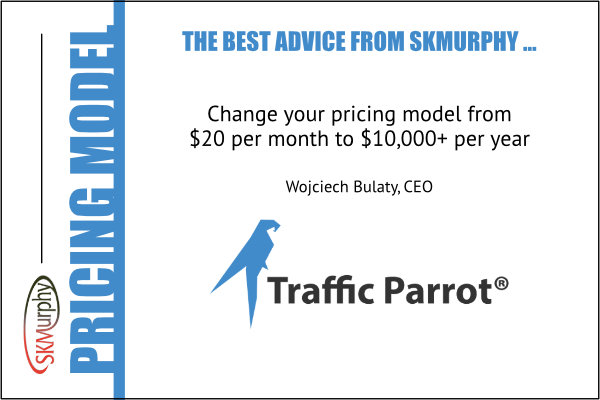 Recently, Sean Murphy helped an entrepreneurial software engineer with over a decade of experience working with software teams at large enterprises. The entrepreneur was sure he could deliver a lot of value to the customers, given his vast experience working on similar projects. His pricing model was to charge $20-per-month selling to technical specialists at large organizations who could expense the bills via their company credit cards. This can be a sound approach, but it's predicated on selling individual seats. For products that are embedded in a centralized service, a per-seat price may capture very little of the value that a server product delivers. The entrepreneur continued to serve the same technical contributors in his target market niche, and continued to solve the same types of problems for them. But he realized that it would be easier and faster to price to value at a group or function level because that was how the products were being deployed and used.
"We have decided to serve groups of people at large enterprises where the sale involves technical specialists, managers and executives in the decision making process. This allowed us to deliver bigger chunks of value at a time for the customers and capture a percentage of that value at Traffic Parrot by charging customers $10k+/year rather than $20/month"
Wojciech Bulaty CEO at Traffic Parrot
More About Traffic Parrot
Traffic Parrot is an API mocking and service virtualization tool. It simulates APIs and services so that you can test your microservices without having to worry about test data set up or environment availability. Traffic Parrot is specifically designed to maximize developer and tester productivity when working in autonomous or cross-functional product teams. Small footprint (less than 50MB of disk space), lightweight but powerful, supporting HTTP, JMS, IBM MQ, File transfers, gRPC and more.
"Traffic Parrot is specifically designed to maximize the productivity of developers writing automated tests and to enable them to mock out microservices for local development. Their lightweight platform with gRPC support was a good fit for our Docker and Go-based development environment. They provided strong support during the POC and continue to track the rapid evolution of gRPC, acting as an effective extension to our team."
Brian Romanko, VP Engineering at Bestow
Related Blog Posts
SKMurphy Customer Case Studies
Pricing Related Blog Posts