Having a public reference, testimonial, or case study is a significant risk reducing asset for a startup. It's prudent to negotiate the level of reference in parallel with price.
Negotiate the Level of Reference in Parallel with Price and Others Terms and Conditions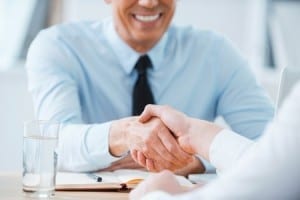 Steve Bengston is the Managing Director of Emerging Company Services (ECS) at PricewaterhouseCoopers, a frequent explainer of the PWC MoneyTree report, and the host of "PricewaterhouseCoopers Startup Show." He is also a nice guy who is knowledgeable and very approachable. He was interviewed by Anthony Nassar in April 2004 and had some good advice for entrepreneurs on negotiating a reference at the same time they are negotiating the rest of the contract.
"I advise entrepreneurs to secure a referenceability clause when entering into beta agreements with customers, and perhaps refrain from entering into a beta agreement if the customer is unwilling to serve as a repeat reference with investors or prospects."
Steve Bengston
I have had three conversations in the last two weeks about the fact that there are many levels of reference, so I have put the following list together to document my perspective. It starts with an agreement with an individual (potentially at a company that refuses to allow any mention of their use of your product) and work up to a full endorsement with a logo.
Level of Reference
Basic: Your customer agrees to take calls from new prospects. We normally specify a maximum rate (e.g. one a month, three per quarter) as this forces us to prioritize and not waste folks' time on low probability events. You may mention their name, title, and company verbally and share contact info verbally or in an e-mail to a serious prospect.
NDA only: You can use name, title, and company on a slide that's part of a presentation that's delivered under non-disclosure.
LinkedIn: for service firms you can ask for a reference on LinkedIn.
Web Release: You can use name, title, and company on your website with a testimonial statement.
Press Release: You can issue a press release with an agreed upon quote or set of quotes.
Other (Public) Document: e.g. a case study, white paper, joint paper for a technical conference. Consider other ways that a happy customer can support you and help to evangelize your shared success. These documents normally sidestep an highly territorial PR or corporate identity or branding group who will pay more attention to what's being messaged directly to media and analysts.
Joint Press Release: You and the customer issue a joint press release. This is a very big deal with a public company and can be difficult for an early stage firm to secure. We have helped clients do this but you need to start this negotiation as a part of the purchase as Steve Bengston advises above and be prepared to make concessions on price and other terms.
Logo: Using a customer's corporate logo is normally involves more effort than securing an endorsement or testimonial from an individual employee. It carries with it a stronger level of endorsement. It may be NDA only, or agreed to on a case by case basis for a particular web page or collateral piece. This is a very strong endorsement that we don't normally try and negotiate as part of an initial purchase, although it's very appropriate for other kinds of joint ventures and partnering activities.
You should start discussing the form of a reference as soon as it becomes likely that you are involved in a serious evaluation. One way to approach this issue indirectly is to ask how they supported or acted as a reference for other suppliers/partners. With a large company you may want to pursue a two track negotiation model where you at least secure a private agreement from your direct customer to act as a reference and answer some number of calls and e-mails. Normally your customers will want you to be successful: they don't want to pay for all of your development efforts but see them spread across other customers. If your prospect has never acted as a reference for a vendor/supplier/partner at least at a phone call or e-mail level or is unwilling to do so it may be wise to invest effort elsewhere: if you can't substantiate your success it gets hard to talk about it.
Negotiate for an Accurate Reference
We never ask for a positive reference as a part of a negotiation, only an accurate one: the prospect will more readily agree to tell the truth than shill for you and it's up to you to convince them with your performance and results that your product is worth bragging about to strangers.
After the fact we try and encourage the customer to be as positive as they feel, but in their own words. We do this by interviewing them and ask them for their perspective on a client's performance and results delivered. This can sometimes be negative, in which case the issues have to be addressed directly and forthrightly to the customer's satisfaction. There can be a temptation to "put words in the customer's mouth" whereby they regurgitate your preconceived advantages. We have come into the middle of several situations where this didn't end well: when the customer was called by a prospect they offered their real perspective, not the press release phrasing. This created a serious perception mismatch that stalled or killed the sale.
Related Blog Posts