Startup uncertainty at the very beginning is high in many dimensions. Good questions help to clarify your uncertainties.
Startup Uncertainty At The Very Beginning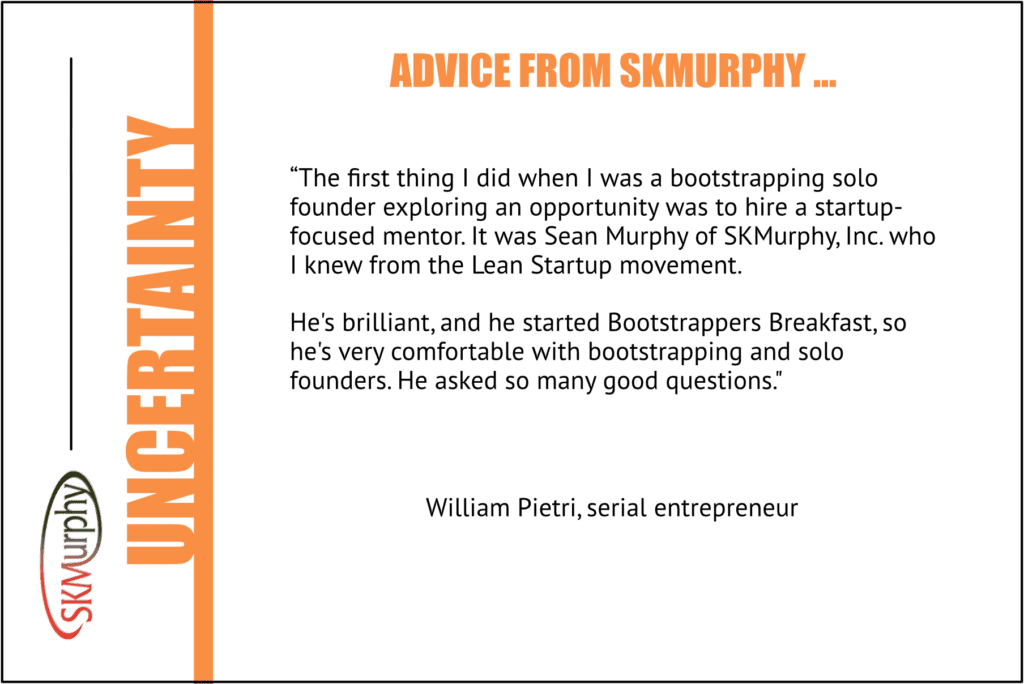 The first thing I did when I was a bootstrapping solo founder exploring an opportunity was to hire  a startup-focused mentor. It was Sean Murphy of SKMurphy, Inc. who I knew from the Lean Startup movement.

He's brilliant, and he started Bootstrappers Breakfast, so he's very comfortable with bootstrapping and solo founders. He asked so many good questions.

William Pietri, serial entrepreneur
SKMurphy take:
At the very beginning, there is a high level of uncertainty in many dimensions. This can cause certain people to stand still and others not to ask themselves the questions that expose the ignorance and uncertainty they need to address. Because we spend a lot of time in that uncertain emerging possibly early market we can ask questions that clarify and help people to move in the direction of their fears and uncertainties
A number of years ago, I wrote about advice that William gave to a fellow entrepreneur. In the blog post, William Pietri and I address someone's question exploring an MVP for knowledge worker productivity. This blog post is a good example of some of the advice you can get at a Mastermind group.
Let us know if you are interested in joining a mastermind group.
Related Blog Posts
Postscript Tue-Jul-6-2021: I posted this card on LinkedIn and William Pietri added these remarks: "And I'd say it again, plus more besides. There were a lot of smart people involved in the early stages of the Lean Startup movement. But not only was Sean one of the smartest, he was one of the most sincere. Startups attract a lot of hustlers, and Sean is the opposite: thoughtful, frank, and 100% committed to helping people build strong businesses."