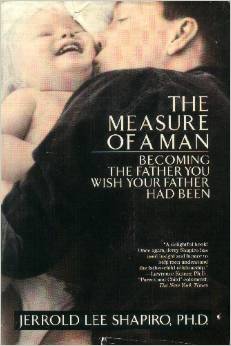 After my first son was born a friend recommended that I read "The Measure of a Man: Becoming the Father You Wish Your Father Had Been" by Jerrold Lee Shapiro. It was very good advice that I now pass on for Father's Day.
There was one key point that's worth highlighting: it's the father's obligation to introduce a child to the world and to hold a child  accountable to to the standards of the world, not just the more forgiving standards of the family. For example: fathers typically communicate side to side looking at the same problem; fathers tend to hold children facing out when they carry them; fathers tend to determine the mutual game or activity. Mothers provide emotional support and affirmation. Mother communicate more face to face, tend to hold the child facing them, and engage in whatever game or activity the child wants.
It's a very practical book that stresses strong reasons for different parenting styles and why both are important.
Related Blog Posts for Father's Day 2012