In college a good friend put up an old New Hampshire license plate on his dorm room wall, he liked the state motto: "Live Free or Die."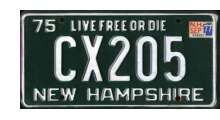 On Independence Day I was listening to old Midnight Oil songs and was struck by the line "It's better to die on your feet than to live on your knees" in the "The Power and the Passion."
You take all the trouble that you can afford
At least you won't have time to be bored

It's better to die on your feet than to live on your knees

Oh the power and the passion, oh the temper of the time
Oh the power and the passion
Sometimes you've got to take the hardest line
I decided "live free or die" was a good theme for Independence Day and collected some related quotes.
+ + +
Live free or die: Death is not the worst of evils.
John Stark letter to veterans 1809
+ + +
Eleftheria i thanatos Freedom or Death
Motto of State of Greece
+ + +
Live Free or Die
official State motto of  New Hampshire,
Adopted in 1945, inspired by John Stark.
+ + +
Mejor morir a pie que vivir en rodillas.
"Men of the South! It is better to die on your feet than to live on your knees!"
Emil Zapata (c. 1877-1919), attributed
+ + +
"We, and all others who believe as deeply as we do, would rather die on our feet than live on our knees."

Franklin Delano Roosevelt (1882-1945), upon receiving the degree of Doctor of Civil Law from Oxford University, June 19, 1941; special convocation ceremony held at Harvard University, with FDR's remarks delivered by secretary to the President, Major General Edwin M. Watson
Related Articles
Barry Popik "Live Free or Die" who notes
"The saying 'Live free or die' had been well-established long before 1809. In 1772, a French novel by Louis-Se?bastien Mercier contained, "Choose then, man! be happy or miserable; if yet it be in thy power to choose: fear tyranny, detest slavery, arm thyself, live free, or die." On March 23, 1775, Patrick Henry is reported to have said, "Give me liberty or give me death!" In March 1776, Virginia soldiers said that they were "determined to die or live free."
Related Blog Posts
Image Credit Thompson Reuteurs Legal Research Blog