For customer interviews we have a rule of thumb that if an hour or research saves a minute early in the conversation it's a good investment.  When you look at the list of questions you have prepared to learn about the prospect's business and their needs, it's easy to say to yourself, "I am really busy I can just ask these at the start to 'set the table.'" But there are significant risks with this approach.
Preparations Cuts the Risk of
Customer Interviews Ending Prematurely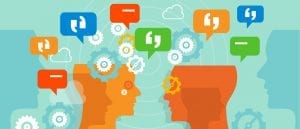 While the interview may be nominally scheduled for 15 minutes or a half-hour and may run an hour if it goes well the first six minute or so  are critical to communicating that you have done your homework on their situation and their needs. If you start to ask questions that are already published on-line you can appear lazy or unprepared. If you can do research on a prospect in advance, it's worth spending an hour to save a minute in the conversation. You can even start the conversation by saying "when I prepared for this conversation here is what I learned about your firm" and give a brief summary of what you know about their situation.
It's OK to say "I see on your website that you have hired four people in the last three months, how has that impacted …" or "I read a profile of your firm in the San Jose Business Journal Book of Lists, have you grown beyond the 12 people listed in February?" This shows that you have done your homework and don't want to waste their time but need to confirm some of the key facts that may bear on their needs.
Information Sources To Consult Prior To Customer Interviews
Do a thorough review of the prospect's website.
Search for any articles in the last two years at least to see what kind of press coverage they have received.
Review the Linkedin profiles for the firm, the person you are talking to, and anyone with similar titles or in the same department.
Review on-line postings in relevant forums for the industry.
See if they have a blog, a twitter account, a YouTube account, and similar social media sits that are often used for business purposes.
Six Questions That You Normally Have to Ask In The Conversation
Prospect's description of the problem in their own words. This is rarely more than a sentence or two and capturing the essence in their own words is key.
High level description of current work process or work flow in their own words. This forms the basis for any delta comparison or differentiation of your solution.
Any constraints they mention: if you hear the same ones multiple times you will more than likely have to satisfy them.
How they will tell that a new solution will leave them better off: this is different from asking them to specify the solution, it's asking for "future state" or the end result they would like to achieve.
What else they have tried to do to solve the problem: probe for why they were not satisfactory.
Key metrics or figures of merit they would use to evaluate a new outcome.
Closing Thoughts
"A month in the laboratory can often save an hour in the library."
Frank H. Westheimer
Entrepreneurs seem to divide into two camps:
those who want to have a conversation immediately, and
those who are quite content to research for months as long as they don't have to talk to strangers.
Striking a balance is the key to maximizing your learning from a customer interview. Effective research prior to the customer interview allows you to
Ask better questions
Provide evidence of your commitment to developing a mutually satisfactory business relationship
Detect when your prospect is leaving something out or perhaps coloring the situation too much. You are not a stenographer there to capture whatever they say without reflection, but if your only source of information is what they tell you then you risk "garbage in, garbage out" in your product plans and MVP.
Related Posts
Image Credit: bakhtiarzein / Bakhtiar Zein licensed from 123RF.